Creatinine 7.9, GFR7, Hypertensive Nephropathy, 74 Years old
2013-10-08 16:06
Patient: I am a patient of high blood pressure controlling by tablets. My creatinine level is 7.9 and GFR is 7. What I must do?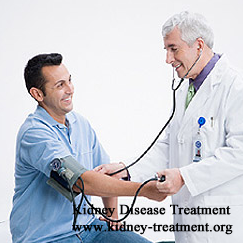 Doctor: Hey, thanks for leaving us message. Before answer your questions, I have some questions for you and this will help me to know more about your illness. Only with a comprehensive understanding about your kidney problem, can we give practical and useful suggestions.
First of all, are you on dialysis now? You mentioned your creatinine is 7.9 which is a very dangerous level. Normal creatinine level in blood is 0.5-1.3md/dL. Dialysis or kidney transplant are needed usually when serum creatinine level is increased to 5. Therefore, I'd like to know if you are on dialysis now.
Second, do you have discomforts like nausea, vomiting, pulmonary edema and itchy skin? If you have not started dialysis yet and have no any discomforts, you can delay dialysis. However, if you are suffering from these symptoms, especially pulmonary edema, I suggest you to start dialysis as quickly as possible, as all these discomforts are caused by high levels of toxins in blood and dialysis can help to clear these toxins away.
Besides, do you still have urine output? If yes, I suggest you to try Micro-Chinese Medicine Osmotherapy which works through a group of herbs and has been proven to be able to improve GFR effectively. Kidney is responsible for filtering blood and producing urine. You have urine output means you still have healthy kidney function. Under such a condition, it is possible for effective ingredients in medicines flow into kidney to repair injured kidney intrinsic cells. In this way, kidney function can be improved. Now your GFR s 7 and as long as your GFR is increased to 15, you can live a longer time without dialysis and kidney transplant. Additionally, as long as your kidney function or GFR 7 is increased, your creatinine level 7.9 will be lowered effectively.
Lastly, kidney problem caused by high blood pressure is called Hypertensive Nephropathy in medicine. To receive satisfactory treatment effects in treating this kind of kidney problem, high blood pressure must be controlled well.
Any questions? Fill the form below. You will surely get the free medical advice from experts within 24 hours.