How Do We Treat Itchy Skin with Creatinine 9.2
2017-08-11 11:27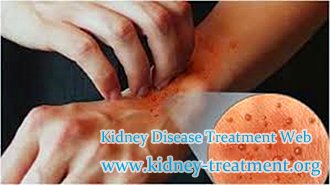 Guest 08-08 08:37:02
How do we treat itchy skin?
kidney-expert 08-08 08:37:05
How long do you have the problems? Do you have any illness history such as hypertension, diabetes or infection?
Guest 08-08 08:37:21
Past couple weeks now.
kidney-expert 08-08 08:38:11
Do you know your creatinine level?
Guest 08-08 08:38:18
Creatinine is 9.2 and BUN is 90 but no other organ issues.
kidney-expert 08-08 08:38:49
Do you have dialysis or not?
Guest 08-08 08:40:09
No dialysis yet. He is on the border of dialysis but trying to control blood pressure first.
Guest 08-08 08:40:39
Blood pressure is now controlled at systolic between 120-140 now.
kidney-expert 08-08 08:40:43
I see. For his case, he can take Chinese medicines to clean up the harmful things deposited in the body, alleviate the symptoms like itchy skin and high blood pressure, promote the kidney to recover well, etc. For an example, the combined treatments of Toxin-Removing Therapy and Micro-Chinese Medicine Osmotherapy can repair the diseased kidney and improve the renal function with effects. When the kidney is restored, the unwanted things will be eliminated, the itchy skin will be disappeared and dialysis can be refused.
Guest 08-08 08:41:18
Thank you.
Any questions? Fill the form below. You will surely get the free medical advice from experts within 24 hours.