What is Your Advice for Me in Stage 3 Kidney Failure
2017-08-14 11:08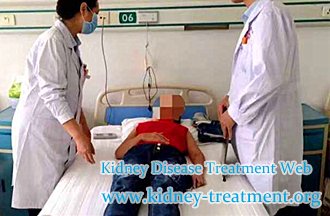 Greek visitor 08-10 08:13:16
I am in stage 3 kidney failure and have just read bananas are bad for me I have been eating them daily with my Weetabix some times two a day. I am not one of my doctor's best patients. And I am diabetic too 18 years and 5 years RKF. Also, I have just read that brussel sprouts are bad and tomatoes, almost all the vegetables that I like? I am over weight but have just got my brain into gear and have just lost 14 kilo also I drink a lot of water but also o% fat milk. I live in Greece and their diet consists of a lot of oil which I hate. I do eat healthy or so I thought and I have gone from one meal a day to 3 and I am loosing weight am 80 kilo now. I am 66 years old with insulin resistant and my kidney Doctor has given up on me help.
kidney-expert 08-10 08:13:33
OK, I see. Do you have a high potassium level? All the foods you list have rich potassium.
Greek visitor 08-10 08:13:52
No.
kidney-expert 08-10 08:14:12
Any symptoms now? foamy urine, swelling, fatigue, back pain, anemia, itching, etc
Greek visitor 08-10 08:18:27
Strange I have just noticed foamy urine what dose that mean?. always fatigue back pain yes but I have pancreatitis too, itchy feet.
kidney-expert 08-10 08:18:44
OK, don't worry, I will help you. For your case, you can take some these vegetable while paying attention to your potassium. If it goes high, you would better to stop these foods. Also, you can take an effective treatment like Toxin-Removing Therapy, Micro-Chinese Medicine Osmotherapy, Immunotherapy and so on to alleviate the symptoms and repair the diseased kidney. When your kidney is recovered, you will have less limitations in diets.
kidney-expert 08-10 08:18:56
Your proper diets depends on your illness conditions. Please do not make a decision without the guidance of a doctor. If possible, please send your lab test reports to me. And then, I will give you more information about diets, symptoms and natural treatments to you.
Greek visitor 08-10 08:19:35
Thanks in advance.
Any questions? Fill the form below. You will surely get the free medical advice from experts within 24 hours.