How to Help My Mum in Kidney Disease with Functioning on 22%
2017-10-04 11:19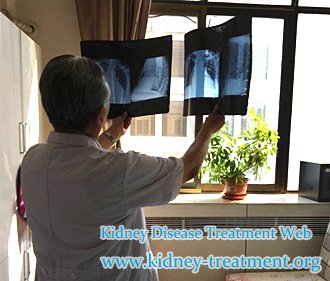 England Visitor 09-19 04:47:09
Hi, doctor. My mum has kidney disease only functioning on 22%. No dialysis at min. On one steroid a day. But isn't eating and now said she feels very heavy and her bones hurt. She gets very breathless after walking a couple of yards. I don't know how to help.
kidney-expert 09-19 04:47:24
Any symptoms? Like foamy urine, swelling, fatigue, back pain, anemia, itching, etc.
England Visitor 09-19 04:50:19
She has a lot of fatigue. She struggles to get of bed as she is too tired. Also of back ach and has been itchy for a couple of weeks. Swelling on her feet and legs have gone down now. A few weeks ago she was unable to get her shoe's on. She was diagnosed 14 weeks ago with kidney disease.
kidney-expert 09-19 04:50:30
Does she have diabetes, high blood pressure, or other problem?
England Visitor 09-19 04:52:44
She has always had high blood pressure. Doctor changed her blood pressure medicines last week and it seems to be coming down when I took it today it was 168/86. I'm worried as she is only 55.
kidney-expert 09-19 04:53:14
OK. Please do not worry. We can help your mother. For her case, her kidney is damaged so badly, and various toxins and wastes have been deposited in her body. So that, swelling, back ach, itching and other symptoms will appear on her as a result of the kidney damage. We adopt Chinese medicines to help the patients clear away toxic substances, dispel the discomforts and recover the kidney function. When the kidney function is improved, she will feel better.
England Visitor 09-19 04:54:02
What is the specific name of the treatment? And what is its formation?
kidney-expert 09-19 04:54:22
Our characteristic treatments include: Toxin-Removing Therapy, Micro-Chinese Medicine Osmotherapy, Moxibustion Therapy, Acupuncture and Immunotherapy. But which one can do better in treating your mother depends on her illness conditions. Give me her medical reports, I will send more information about treatments to you within 24 hour.
England Visitor 09-19 04:55:16
OK. Thank you in advance.
kidney-expert 09-19 04:59:48 This conversation is ended.
Any questions? Fill the form below. You will surely get the free medical advice from experts within 24 hours.