Diet and Treatment for CKD Patient with Creatinine 2.0
2013-12-15 10:06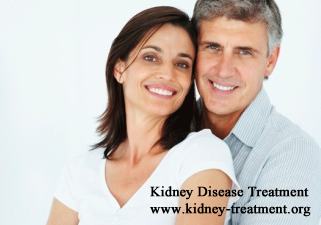 Patient: Hello, doctor. My husband has just been diagnosed with CKD, and his creatinine level is 2.0 and the GFR is 42, I want to know what it means. I think his kidney disease is caused by his hypertension which has been lasted for many years. Can you give me some suggestions on both diet and treatment for my husband with his CKD and creatinine 2.0?
Doctor: Hi, I received your e-mail, and I know something about your husband's condition. CKD is a common kidney disease all over the world, and it is known as difficult to be cured. So we need to remedy it as soon as possible.
For your husband's condition, his creatinine level is 2.0 and GFR is 42, which means he is already in CKD stage 3, and his kidney function is moderately reduced. If he don't have effect treatment and keep a well-planed diet, he will quickly suffer from CKD stage 4 or even develop into end stage kidney failure. Then he can only live depending on dialysis or wait for a kidney transplant. Therefore, early and effective treatment will be the best way to slow down the progression of his kidney disease.
Here, as a nephrologist, I will give him some suggestion on both diet and treatment which will be helpful for his illness, and will also slow down the progression.
Suggestions on diet:
All the kidney disease patients should follow a well-planed diet depending on his illness condition, which will be helpful for their kidney disease.
1. Keep a vegetarian diet
As the creatinine level is higher than normal level, your husband should keep a vegetarian diet, which will reduce the excretion of creatinine from the meat. He should also avoid strenuous physical activity, as creatinine is the metabolite of muscles.
2. Limit the protein intake
If your husband has the symptom of protein urine, he should limit the protein intake, which will reduce the kidney burden and the kidney damage. For your husband, he is in CKD stage 3, the proper amount of protein intake is 0.6 g every body weight everyday. It's better for him to take some high quality protein intake.
3. Limit the salt and fluid intake
I get your husband has hypertension for many years, so he should limit the salt and fluid intake, which will help him to control the high blood pressure and prevent the common symptom of swelling.
If you want to get a detailed and personalized diet plan for your husband, you can send his test repots to kidney-treatment@hotmail.com. I am glad to help him.
Suggestions on treatment
For the CKD stage 3 treatment, I recommend patients to take Micro-Chinese Medicine Osmotherapy, which uses the traditional Chinese herbal medicines and has no side effects on patients. For some western treatment, the doctor give patients western medicines, which can only control the symptoms caused by kidney disease, but it cannot prevent the kidney damage. And some western medicines often have side effects on patients, it may also damage the kidney function. However, Micro-Chinese Medicine Osmotherapy have the function of repairing the damaged kidney tissues and improve the kidney function, which will remedy the kidney disease fundamentally.
I hope your husband will get the early and effective treatment and keep strict daily diet on his condition. Good luck to you.
Any questions? Fill the form below. You will surely get the free medical advice from experts within 24 hours.