What can I do for My Kidney Disease with Creatinine 2.72
2013-12-24 10:12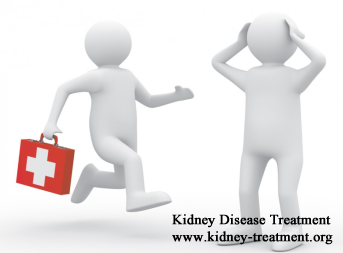 Patient: hi, doctor. I have kidney disease and my creatinine level is 2.72 mg/dl. I also have diabetes and hypertension, and my high blood sugar from 3 years, and hypertension from more than ten years. For my condition, what can I do for my kidney disease with creatinine 2.72?
Doctor: hi, I get your e-mail from my assistant. You have both diabetes and high blood pressure for so many years, then do you know the two diseases are the leading causes of kidney diseases. Both uncontrolled diabetes and hypertension persisted for a long time or many years may cause kidney damage. So patients with high blood pressure and high blood sugar should pay attention to their health and have regular tests on their kidney function.
You say you have kidney disease, but i don't know what kind of kidney diseases you get, maybe caused by your hypertension or diabetes? You should first get the basic cause of your kidney disease, then we can give you detailed suggestions for your kidney disease. You can send your test reports to kidney-treatment@hotmail.com. I will give you personalized suggestions.
Your creatinine level is 2.72 mg/dl, and it is higher than the normal level 0.5-1.3 mg/dl, which means your kidney function is less than 50%. In this condition, you should have effective treatment to remedy your kidney disease. If you don't control your high creatinine level, your creatinine level will be higher and your kidney function will be reduced quickly. You will finally get into end stage kidney failure, in that condition you will have to live on dialysis or wait for a kidney transplant, which will make you live a poor life quality.
You should change your daily diet which will help for your illness condition. Keeping a kidney-friendly diet can protect your residual kidney function and control or remit your symptoms such as high blood pressure, proteinuria, blood urine and swelling. Here are some general dietary principles for you and other kidney disease patients, which contain:
- low-salt and low-sodium diet
- limit your protein intake
- limit your fluid intake
- limit high-potassium or phosphorus foods
- supply some vitamins and elements you lack
- eat less sugar
- eat some fruits and vegetables
- limit the meat intake
Besides, depending on your illness condition, you should also pay attention to some other details. You should know exactly about what can eat and what cant eat. All these attentions will be good for your illness. If you need, I can give you a personalized recipe for your illness depending on your test report.
Any questions? Fill the form below. You will surely get the free medical advice from experts within 24 hours.