Can Heart Problem Cause Kidney Damage for People with One Kidney
2013-12-30 10:54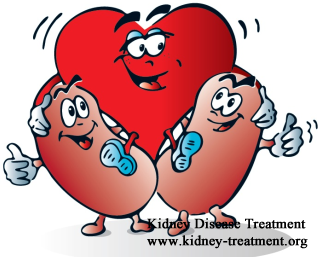 Patient: I am female and I am 60 years old now. I was diagnosed with a diseased horse-shoe shaped kidney when I was 21-years old. They removed my diseased portion, and now I am diagnosed with stage 3 kidney disease, I am a little confused on how I got to stage 3 with out any prior notification. I also read that the way the heart pumps impacts kidney function. I was diagnosed with a heart defect last January, can it cause my kidney failure?
Doctor: Hi, from your e-mail, I get your condition now. In our body, there are two bean-like shaped kidneys, which are important for our bodies. The kidneys have the function of filtering wastes and toxins in blood, and keeping the balance of acid-base and electrolyte, which will help the whole body function normally.
For your condition, you only have one kidney now, so the blood will flow to the single kidney, and the toxins and wastes can only be excreted by the one kidney. Your own kidney will work in a over-loaded condition, which will cause the kidney damage. If your kidney in an over-loaded condition for a long time, the kidney function will gradually reduced, or even develop into end stage kidney failure. And in the early stage, you will not suffer from some serious symptoms, and your kidney function can work normally, so you will not notice your kidney has been damaged. When you experience some obvious symptoms or complications, you may have develop into middle stage or even worse. That's why you don't have any prior notification that you have been in stage 3 kidney disease.
On the other hand, heart problem can also cause kidney damage, and reduce the kidney function. As we know, heart is an important organ for us, once the heart fail to work, we will die. So heart problem will also cause kidney disease and some other diseases. The normal heart function can make the blood circulation normally, and heart can provide blood to the every parts of the whole body. Once the heart is damaged and cant work well, the blood volume which will flow to kidneys will be reduced, and the kidney will be in an anoxic condition, which will cause kidney damage. Therefore, the heart problem will also cause the reduction of kidney function.
Above are the answers for your question, for your condition you should have prompt and effective treatments to slow down the progression of kidney failure. As you have only one kidney, and the one kidney is also damaged moderately, so you must pay attention to it. Once the one kidney fails to work, you will need to have a kidney transplant or live on dialysis. Early treatments will be helpful for you. If you want to get some detailed information about the treatments, you can send your test reports to kidney-treatment@hotmail.com. We are glad to help you.
Any questions? Fill the form below. You will surely get the free medical advice from experts within 24 hours.