What Should My Mother Do with Diabetic and High Creatinine Level
2014-01-16 06:28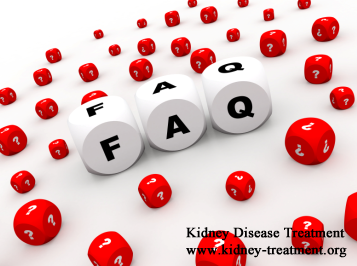 QUESTION: My mother is diabetic and taking insulin, and she was lately found high in creatinine level, can you tell me what does high creatinine level mean? And in my mother's condition, can you give some advices to take for her?
ANSWER: I get your description from our e-mail kidney-treatment@hotmail.com, I hope my advices will be helpful for your mother's illness, and is you still have some questions, you can reply back to me.
Your mother is diabetic and taking insulin, and I hope her high blood pressure should be controlled well. As we know, diabetes is one of the most common causes of kidney disease, which will cause kidney damage or even cause kidney failure. For your mother, her creatinine is high, which means her kidney has been damaged seriously. Then, we should know what creatinine is.
Creatinine is a chemical waste product in blood, which is mainly filtered by kidneys. And creatinine is a by-product of normal muscle contraction, once the kidneys are damaged severely, the creatinine cant be discharged promptly, which will cause high creatinine level in urine. So high creatinine level is often a sign of less than 50% kidney function.
From above we can know that your mother has diabetic nephropathy with less than 50% kidney function. Your mother need to have a blood test to get the exact number of her high creatinine level, then we can know what stage of kidney disease she is in.
In this condition, with less than 50% kidney function, we recommend patients to have both dietary therapy and medical therapy to remedy their kidney diseases. They should follow a kidney-friendly diet, which can help reduce the kidney burden and protect the residual kidney function. Besides, they should also have effective and prompt treatment to remedy their kidney disease, which can help repair the damaged kidney tissues and improve the kidney function. Through right diet therapy and medical treatment, patients can remedy their kidney disease from root, and get rid of kidney failure.
Any questions? Fill the form below. You will surely get the free medical advice from experts within 24 hours.