Creatinine 1.3 with Serious Symptoms: What to Do in This Condition
2014-01-26 03:26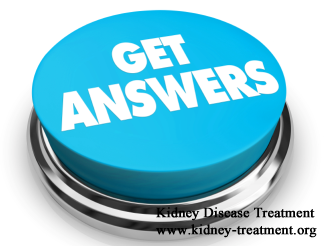 QUESTION: I recently had a Cat-Scan with contrast, and my kidneys are not functioning properly. My creatinine is up to 1.3, not too high but my first time. I have ringing in my ears and severe dizziness and confusion, edgey and sleepless. Can you tell me what should I do in this condition?
ANSWER: The elevated creatinine level is often regarded as a sign of less than 50% kidney function, and normal serum creatinine level is 0.5-1.2 mg/dl. You said your creatinine level is 1.3, which is a little higher than the normal range. This means you have 50% kidney function.
Your creatinine level is not so high, but you are suffering from some serious symptoms, such as ringing in your ears, severe dizziness, confusion and sleepless. All these symptoms are related to your kidney disease. As we know, kidneys have the function of filtering wastes and toxins in blood, and the damaged kidneys will cause the bad substance building up in blood, so you will experience these serious symptoms.
In your condition, you need to have effective treatment to remedy your kidney damage. Here we recommend you to have blood purification therapy, which can help remove the toxins and wastes from blood, and supply some nutrition to kidneys. Besides, you can also take some herbal medicines, which can help you repair the damaged kidney tissues and improve the kidney function. Through the systemic treatment, your symptoms will be relieved effectively.
Any questions? Fill the form below. You will surely get the free medical advice from experts within 24 hours.