Are There Any Natural Treatments for My Father-In-Law with Stage 3 Kidney Failure
2014-02-07 01:24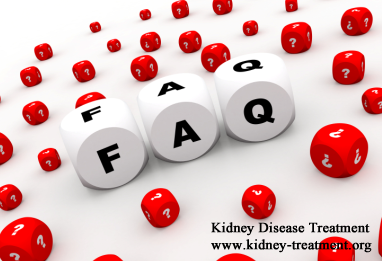 QUESTION: My father-in-law was just diagnosed with stage 3 kidney failure, and he has both diabetes and high blood pressure. I want to know whether there are any natural treatments for him to prolong his life expectancy.
ANSWER: I get your description from our website, and I hope I can help your father to prolong his life expectancy. Your father has diabetes and high blood pressure, do you know they are the two main leading causes of kidney disease? The unwell controlled high blood pressure and high blood sugar will increase the progression of kidney failure.
You said your father is in stage 3 kidney failure, which means his kidney function have been reduced moderately. In this condition, he may suffer from some serious symptoms such as protein urine, blood urine, swelling and high blood pressure. So he should also have effective treatments to control his symptoms.
As we know, in western countries, the doctor may ask his patients to have some western medicines which can help them remit their symptoms effectively. However, western medicines often have some side effects and once people stop using the medicines of reducing the dosage of medicines, the symptoms can come back again. In addition, the western medicines cant prevent the progression of kidney failure.
As western medicines have some side effects on patients, and you want to get some natural treatments for your father, so we recommended your father to try Chinese herbal medicines, which will be beneficial for his illness and have no side effects.
We use Chinese herbal medicines in different types such as Chinese herbs hot compress therapy, medicated bath and foot bath. When patient comes into our hospital, the experts will make a systemic treatment project for his illness condition. The Chinese herbal medicines can help patients improve their immune system and increase the blood circulation, which can help repair the damaged kidney tissues and improve the kidney function. Besides, some Chinese medicines can also help lower high blood sugar and high blood pressure, and the well controlled blood sugar and blood pressure will help slow down the progression of kidney failure.
Once the kidney function is improved, the symptoms can be relieved fundamentally. The improved kidney function will make people feel better and better. If you want to get the detailed treatment information, you can send the test reports of your father to kidney-treatment@hotmail.com.
Any questions? Fill the form below. You will surely get the free medical advice from experts within 24 hours.