How To Diagnose FSGS
2013-09-21 16:12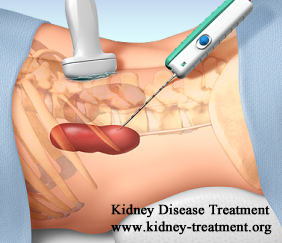 The earlier the diagnosis of FSGS is, the more likely you have a successful treatment. Therefore, it is wise for you to do tests to diagnose if you experience FSGS. The specialists use the most advanced technology and techniques to diagnose FSGS.
Kidney biopsy is the only way you can make certain of an accurate diagnosis of glomerulosclerosis. That is because many other conditions can also lead to glomerulosclerosis. In a kidney biopsy, your doctor removes a small part of kidney tissue which is used to examine the signs of scarring. Besides, diagnosing glomerulosclerosis may need multiple biopsies and this is because the scarring does not present in the whole kidney. As a result, your doctor has to look at samples from several different parts of the kidney until he finds the affected area.
However, renal biopsy can cause kidney damages while works. For this reason, renal biopsy usually is not recommended, especially for kidney failure patients.
Other conditions may help to diagnose FSGS, including
In diagnosis for FSGS, it should be identified with the traditional Minimal Change Disease (MCD). Knowing the following clearly is helpful for diagnosing FSGS.
First, along with FSGS there usually occur hypertension and renal function damage, which is often seen in FSGS than in MCD.
Second, microscopic haematuria in FSGS is at a higher rate than in MCD. Actually, about 2/3 FSGS patients have microscopic hematuria.
Third, MCD patients see selective proteinuria while FSGS patients see more unselective proteinuria.
Fourth, FSGS patients also have renal tubules damage.
Fifth, FSGS patients have a more weaker sensitivity to the hormone treatment than the MCD patients.
Sixth, the glomeruli size in patients with FSGS is larger than that in MCD patients.
Besides, urinalysis, immune special examination and blood tests may be recommended to you. If you want to know more information about FSGS diagnosis, you can leave us a message to kidney-treatment@hotmail.com or consult our online doctors directly.
Any kidney problems? Please consult our online doctor. The satisfaction of patient is as high as 93%.
Have a question regarding kidney disease? Get an answer from Medical Professional now!