Is It Normal That the FSGS Patients Have Swelling in Legs
2018-02-12 10:01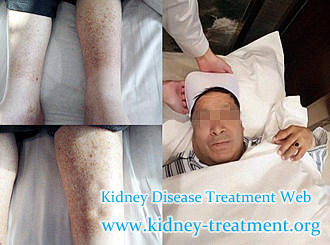 FSGS patients will have either serious or slight swelling in legs in some cases. As this does not bother the patients' daily life a lot and it is hard to be dispelled. This is way some patients may neglect it. But, is it normal that the FSGS patients have swelling in legs? If you are interested in this, welcome to chat with Online Doctor.
Frankly speaking, the swelling in legs indicates there are somethings wrong with the body, and the patients need to go through therapies as soon as possible.
While, what is the cause of swelling in legs?
Generally speaking, the swelling appears in legs is because that the excessive water in the tissue fluid can not be carried out with the help of blood circulation. In fact, many problems can lead to it, however for FSGS patients, kidney inflammations are the initial consideration. Besides, the patients also need to confirm whether it is caused by kidney problem.
And then, how to treat the renal swelling for FSGS patients?
You know, FSGS is a medical condition in which some glomerular are out of work due to the inflammatory response. In this situation, the blood can not be filtered exactly. Consequently, some protein will be leaked into urine, resulting in low plasma osmotic pressure. Moreover, some the extra water and wastes will be remained in the body. So, it is no strange that the swelling occurs in legs in such a condition. What is worse, if the patients do not cure it timely, kidney failure may come out.
Hence, it is necessary to receive effective treatment as soon as possible. By the way, if the patients can not get the swelling disappeared with steroids or immunosuppressor, Chinese herbal medicine remedy can be another option to treat the patients fundamentally and effectively.
For more information about symptoms, complications, diets and treatments to FSGS with swelling in legs, please leave a message below or send the medical reports to us. We will try our best to help you.
E-mail: kidney-treatment@hotmail.com
Any questions? Fill the form below. You will surely get the free medical advice from experts within 24 hours.