Diet for Patient with Hypertensive Nephropathy
2015-06-03 16:06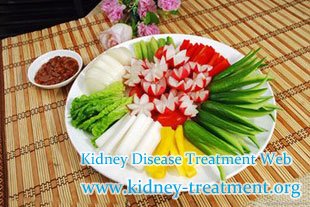 What are the best diet for patient with hypertensive nephropathy ? As we all know that diet plays an important role in treating kidney disease, so here i will give you some tips to help you make a fit diet to control your blood presser and ease the burdens of your kidneys.
Diet tips for Hypertensive Nephropathy patient:
1. Low-salt diet:
The slat intake should be controlled between 2-5g, it's about one spoon, and the salt in soybean sauce(3ml soybean sauce equals 1g salt) should be counted in the total salt intake.
Pickles, fermented bean curd, salted eggs(meat), shellfish, shrimps, preserved egg, water spinach and so on are rich in sodium, so as a kidney disease patient with high blood pressure you should avoid them.
2. Carbohydrate:
Take enough foods with carbohydrate to meed the demand of our body. Foods like rice,flour and soft beans are good choices for patient with high blood pressure, which are also helpful in maintaining your weight.
3. Drink a certain of tea but not too much:
TP(tea polyphenol) plays an important role in fat metabolism, it s helpful in dispelling toxins and soften blood vessels.
So as a kidney disease patient you should take a certain of teas. However, too much teas will add burden to the kidneys, so you should not drink too much of it.
4. Keep low protein diet:
As we all know protein is essential nutrients of our body, but too much of it will add burden to our kidneys and hurt them. So as kidney disease patient you should take certain proteins according to your own condition. Usually, the intake of protein should between 0.3―0.6g for per kilogram weight. High-protein foods such as dairy, eggs, fish and chicken should give priority when you choose the food.
You know different patient has different symptoms so they should has different diet. If you have other questions or need any help in treating Hypertensive Nephropathy, you can send email to us, we will try our best to help you.
Our email: kidney-treatment@hotmail.com
Any questions? Fill the form below. You will surely get the free medical advice from experts within 24 hours.