How does Diarrhea Cause Acute Kidney Failure
2013-12-25 10:18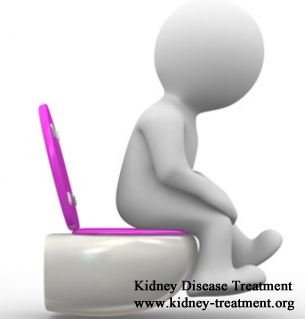 How does diarrhea cause acute kidney failure? As we know, kidney failure patients often suffer from some serious symptoms because of their kidney damage. When the kidneys are damaged, they will lost their functions of filtering wastes and toxins in blood, and the bad substances like creatinine, blood urea nitrogen and other wastes will build up in blood, which will cause serious symptoms such as fatigue, nausea, poor appetite. If this condition is left uncontrolled, they will suffer from some more serious symptoms like, serious vomiting, indigestion, diarrhea, low blood volume or even get quickly reduced kidney function.
Diarrhea maybe a symptom of kidney failure, in turn, diarrhea can also cause acute kidney failure. Then how does diarrhea cause acute kidney failure?
In general, diarrhea can be caused by food poisons and if it cant be treated effectively and timely, it will cause many serious complications, which contain acute kidney failure. But it does not mean that all the diarrhea can cause acute kidney failure, here we refer to very serious diarrhea.
As we know, kidneys have the function of filtering blood, and all the blood will flow through kidneys. When people suffer from serious diarrhea, the blood volume in body will decline sharply, and the blood volume flow to kidneys will be reduced suddenly, which will cause the hypoperfusion in kidneys. The second reason that may cause kidney failure is food poison, because the poison foods in body will also gastrointestinal tract infections and even cause kidney damage. Besides, diarrhea can also cause dehydration, electrolyte disorders, malnutrition and disturbed internal environment, which will also cause kidney damage and even kidney failure.
However, diarrhea can cause acute kidney failure, but the prognosis is good, because the acute kidney failure can be cured with prompt and effective treatment. For patients who get acute kidney failure, they may experience some obvious symptoms, such as reduced urine output, nausea, vomiting, poor appetite, fatigue, and swelling.
If people are suffering these symptoms when they have a diarrhea, they need to have prompt tests to diagnose if they get acute kidney failure. Early treatment will be helpful for the recovery of acute kidney failure. If they don't have prompt treatment, they may develop into chronic kidney failure, or even end stage kidney failure, which will reduce their life quality and make them suffer from dialysis or kidney transplant.
Any questions? Fill the form below. You will surely get the free medical advice from experts within 24 hours.