How much Fluid for Stage 4 Kidney Failure with Diabetes
2014-08-10 06:59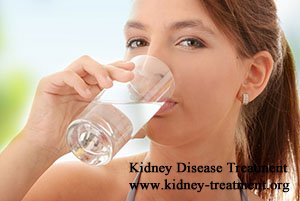 How much fluid should patients with Stage 4 Kidney Failure and Diabetes take? In response to this frequently asked question, we offer detailed analysis as below. Read on or chat with our online doctor for free advice.
How much fluid should patients with Stage 4 Kidney Failure and Diabetes take?
If patients start to retain fluid at this stage, they may need to restrict the amount of liquids they consume. Signs of fluid retention are swelling of the body (in the feet, hands, and face), sudden weight gain, difficulty breathing, elevated blood pressure. These symptoms may indicate decreased urine output as renal function declines.
The most suitable fluid intake should only be given after analyzing your detailed disease condition. Want to get an exact answer? Please Email us at kidney-treatment@hotmail.com with more of your illness situation. Our kidney doctors will make a comprehensive analysis and reply you promptly within 24 hours.
More tips on diet for Stage 4 Kidney Failure with Diabetes
▪ Protein. A protein intake of 0.6 grams per kg of body weight may be beneficial when GFR drops below 25.
▪ Sodium. Most kidney diets start with a goal of 1,500-2,000 mg per day or the amount recommended by the dietitian.
▪ Potassium. If lab tests show serum potassium is too high, the doctor will prescribe a potassium limitation of 2,000-3,000 mg a day.
▪ Phosphorus. Based on the lab results, stage 4 CKD diet may include a phosphorus limitation of 800-1,000 mg daily.
Whenever you have any question about managing your Stage 4 Kidney Failure with Diabetes, please feel free to let us know. We are always here to help you. Thanks for your time. Have a good day!
Any kidney problems? Please consult our online doctor. The satisfaction of patient is as high as 93%.
Have a question regarding kidney disease? Get an answer from Medical Professional now!