When should Kidney Failure Patient Take Renal Transplant
2015-04-05 17:01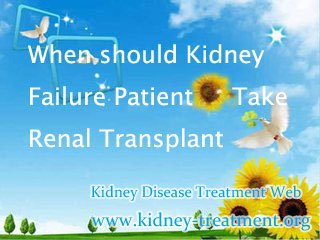 Kidney transplant as one of the best ways to solve kidney problem is preferred by many people, then when should kidney failure patient take it ? And are all the people suitable for it ?
When should kidney failure patient take kidney transplant ?
A kidney transplant is an operation that replaces the failed kidneys with a working kidneys from another person, called a donor. In clinic, once the patient's creatinine level up to 8.0 or the GFR lower than 15, dialysis or transplant will be in demand.
Are all the people suitable for it ?
Actually not all the people suitable for it, here i am not meant the people who are lack of money, of course, this is one of the factors. For people who have high blood pressure, serious heart disease and infection are not advised to take transplant.
But different people have different situations, so some people can live a normal life after a kidney transplant, while some have to face kidney failure again, so do everything you can to prevent your disease goes worse. Such as make a fit diet plan, form a healthy living habit, prevent infection and so on.
If you are the person with kidney failure and want to take transplant, you can consult your doctor to see whether you are suitable for it or not. Of course, you also can consult our online doctor directly or leave message to us, they also can provide advice for you. All the information we provide is no charge, so feel free to contact us.
Any questions? Fill the form below. You will surely get the free medical advice from experts within 24 hours.