6 Measures to Delay the Progression of Renal Failure
2015-04-13 17:11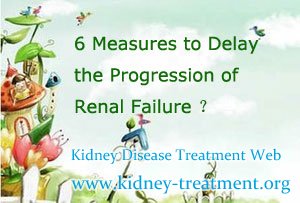 Treatments for renal failure should aims at delay the progression of this disease and relieve those symptoms caused by it, the following are 6 Measures to Delay the Progression of Renal Failure.
1. Have high-quality proteins and do not have much vegetable proteins. High-quality proteins such as lean meat, fish and egg white can produce less nitrogen-related metabolic wastes and at the same time of providing adequate necessary nutritions.
Besides, have low-salt diets especially in case of swelling and high blood pressure. Have liquid intake according to daily urine output.
2. Strict control of blood sugar within ideal range. It is very beneficial to maintain glycosylated hemoglobin below 7% for many early stage renal disease patients. Urinary tract bacteria will easily multiply in high-sugar environment and cause frequent urinary tract infections.
3. Well control of high blood pressure. High blood pressure is one major factor to speed up glomerular sclerosis and illness worsening, therefore controlling high blood pressure is very necessary. ACEI and ARB drugs can help control high blood pressure, reduce protein loss in urine and protect kidney functions.
4. Control blood lipid level. Blood lipid level counts for kidney patients and it is good to control blood lipid, weather it is triglyceride or cholesterol within normal levels.
5. Have some anti-coagulation drugs to reduce platelet aggregation.
6. Avoid drinking and smoking. Smoking and drinking can increase the risk and worsen urinary protein, therefore it is very important that renal failure patients should get rid of and stay away from alcohol and tobacco.
There are several factors that can affect the prognosis of kidney failure, you need to pay more attention and have early prevention. If you have other questions or need any help in treating renal failure, you can chat with our online doctor directly, we will try our best to help you.
Any questions? Fill the form below. You will surely get the free medical advice from experts within 24 hours.