Suggestions for Stage 3 Kidney Failure Patients who Have Symptom of Hypertension
2013-11-30 15:05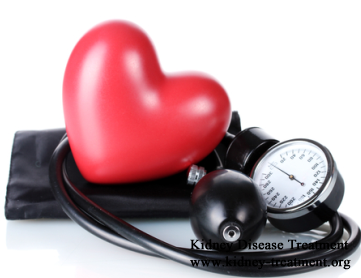 Kidney failure is usually divided into five stages depending on the reduction of glomerular filtration rate and kidney function. Stage 3 kidney failure indicates the moderately decreased kidney function, and the GFR is 30-59 ml/min/1.73m2. In stage 3, kidneys lost its function moderately and cannot work well as normal. Patients may experience some obvious symptoms such as hypertension. In this article, we will recommend some suggestions for stage 3 kidney failure patients who have symptom of hypertension.
Hypertension is a common symptom of kidney failure and uncontrolled hypertension may accelerate the deterioration of kidney failure. Therefore, patients should take measures to control hypertension tightly. Stage 3 kidney failure patients can control hypertension from two aspects: keeping scientific diet and having medical treatment.
1. Keep scientific diet
- limit the salt intake
Because of the kidney damage, sodium and fluid will remain in the blood, which will increase the blood volume and cause high blood pressure. Therefore, patients should control the daily salt intake, and limit the high-sodium foods, such as cured meats, cheese, snack foods and soy sauce.
- limit the fluid intake
Similar with low salt diet, people should also control the fluid intake in order to eliminate the high blood pressure. On the other hand, limiting the fluid intake can also remit the symptom of edema.
Besides, patients in stage 3 kidney failure should also obey other dietary principles, such as taking proper protein intake, supplying potassium, phosphorus, calcium and other elements depending on the blood tests.
Having a well-planed diet will help to control the hypertension effectively, and it will also slow down the kidney damage and protect the residual kidney function.
2. Take medicines to control hypertension
There are some medicines that can control the high blood pressure such as ACE Inhibitors, and Angiotensin Receptor Blockers (ARBs). The two kinds of medicine are proved to have effective result on hypertension. If patients need to take medicines controlling high blood pressure, they should follow the advices of their doctors.
The above suggestions can control hypertension for stage 3 kidney failure patients, but the basic cause of hypertension in kidney failure is kidney damage. Therefore, if they want to control the hypertension firmly, they need to treat their illness from the root. Then Micro-Chinese Medicine Osmotherapy is recommended, and this therapy can treat kidney failure fundamentally. It can repair the damaged kidney tissue and improve the kidney function recovering to stage 2 or more ideal. The improvement of kidney function can control the hypertension in turn.
Any questions? Fill the form below. You will surely get the free medical advice from experts within 24 hours.