Dialysis For Kidney Failure
2013-08-19 17:54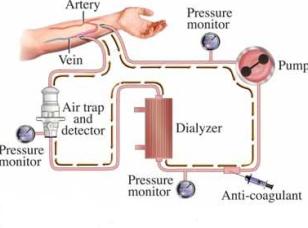 Not everyone with kidney failure needs dialysis, only when one's kidney function is less than 15% or if one has severe symptoms caused by kidney failure like muscle cramp, nausea or vomiting, shortness of breath, his doctor will suggest lab tests and then decide whether he needs to start dialysis.
What is dialysis?
Dialysis is a life-support treatment as an artificial kidney for the people with kidney failure. Normal kidneys have the ability to filter waste products, extra water from your blood to keep water and electrolyte balance. Kidneys also can keep acid-base balance and regulate blood pressure. But when most of kidney function has been damaged, kidneys can't work effectively. In this condition, you need treatment to replace failed kidney to work. In general, patients with kidney failure choose dialysis.
There are two main types of dialysis, hemodialysis and peritoneal dialysis.
Hemodialysis
Hemodialysis is the most common therapeutic measure for kidney failure. Hemodialysis uses a special type of filter to filter the blood. In this process, the filter removes waste and excessive water from your blood, but it keeps the balance of minerals like potassium and sodium. Generally, you may have treatment three times a week. And each time will cost you three to five hours or more.
Peritoneal dialysis
Peritoneal dialysis is using peritoneum as a semi permeable membrane to make compound dialyzate through into the patients' peritoneal cavity by gravity function. In this way, there is concentration difference between the two sides of peritoneum. Through abdominal cavity, dialyzate changes constantly. In the process, metabolic products and toxic substances are expelled out your body, and regulate the balance of water and electrolyte. Compared to hemodialysis, you'd better do peritoneal dialysis if you are over 70 years old, because it is hard to maintain your life with hemodialysis.
It is very important to know which type of dialysis is suitable to you. Because hemodialysis and peritoneal dialysis has their own advantages and disadvantages. You need to know its contraindication respectively before you do dialysis. If you are doing dialysis, you can not stop it unless the state of your illness is better or you prepare for kidney transplant.
Any kidney problems? Please consult our online doctor. The satisfaction of patient is as high as 93%.
What you also want to know:
How can I get this treatment ?
How can I get this treatment in my country?
How much is this treatment ?
What is the duration if I receive this treatment in your hospital ?
How can I go to your hospital ?
Have a question regarding kidney disease? Get an answer from Medical Professional now!