Is Lisinopril Good for PKD patients
2013-12-18 10:32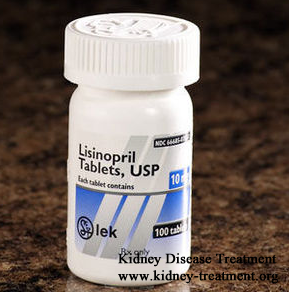 Is lisinopril good for PKD patients? This is a question from one of our patients, who have polycystic kidney disease.
Lisinopril is a western drug which has the function of controlling high blood pressure. It is the third ACE inhibitor (after captopril and enalapril), and it is often used on the treatment of hypertension, congestive heart failure, acute myocardial infarction and diabetic nephropathy.
As we know, for PKD patients, they may also have the symptom of high blood pressure, and they need to control their blood pressure firmly. Because the uncontrolled high blood pressure will increase the progression of kidney failure, which may cause the enlargement of kidney cysts, and increase the risk of kidney cysts rupture and infection. So PKD patients need to have effective treatment to control their high blood pressure. And lisinopril may be a good choice, but western medicines often have some side effects and lisinopril is not an exception.
A long-term used of lisinopril may have some obvious and serious side-effects, such as chills,sings of infection, dark urine, decreased urination, difficulty swalling or breathing, allergic reaction, hoarseness, itching, yellowing of skin or eyes, abdominal pain, bloating, vomiting, chest pain or tightness, dizziness, lightheadedness, fainting, dry cough, fever, joint pain, rash, diarrhea, nausea, drowsiness, headache, tiredness, muscle cramps, fainting, serious liver problems and impotence.
All these side-effects may occur after taking lisinopril, besides, the intake of lisinopril may also cause the kidney damage. Lisinopril can cause the kidneys to retain potassium, which may cause hyperkalemia. And hyperkalemia is harmful for people's health, it may cause some serious symptoms or even death. So PKD patients need to ask the advices of their doctors when they take lisinopril to lower their high blood pressure.
However, lisinopril can only help to control the hypertension in PKD patients, they cannot remedy the kidney disease fundamentally. As we know, PKD is a genetic kidney disease with cysts in the kidneys. If patients want to remit their symptoms and remedy their kidneys, they need to have some effective treatments on preventing the enlargement and rupture of their kidney cysts. Because the complications of ruptured kidney cysts are more serious then the PKD.
In general, PKD patients should have treatment which can shrink the kidney cysts and control the serious symptoms. Here, we recommended Micro-Chinese Medicine Osmotherapy and Chinese Medicine Bath, which can help shrink the kidney cysts and improve the kidney function, and the therapies use naturally Chinese herbs and have no side-effects.
If you want to get more information about the treatments, you can scan the related webpages about Micro-Chinese Medicine Osmotherapy and Chinese Medicine Bath. Or you can ask our experts online.
Any questions? Fill the form below. You will surely get the free medical advice from experts within 24 hours.