Kidney Failure Patient from KZ Got His Disease Under Control
2016-05-21 10:58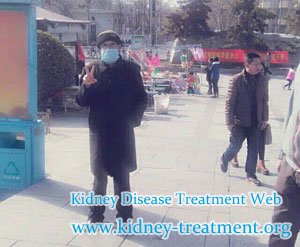 On April 17th, KADYRGALI, a 61 years old Male from KZ (Kazakhstan) came to our hospital for the first time to seek further treatment. Before coming here, he had got Dizzy and headache 8 years, serum creatinine elevated about 1 years. After one month treatment in Beijing Tongshantang Hospital of Traditional Chinese Medicine, his blood pressure got controlled and the other symptoms also got relieved in some certain. We believe that his story can bring some positive energy.
Disease:
Grade 3 hypertension(very high risk), hypertensive kidney lesion, chronic kidney failure,
Primary hyperuricemia, hyperlipoidemia
Disease history:
8 years ago, dizzy, headache appeared has no known cause, then blood pressure 200/100 mmHg
Local hospital give him some treatment accordingly, then, the blood pressure back to normal level the other symptoms disappeared
5 years ago, dizzy and headache appeared again after overworked. Blood pressure increased to 210/110mmHg
1 years ago, dizzy and headache appeared again, urine increased at night, lower extremities edema appeared, blood pressure 160/100mmHg. Routine Urine test shown protein+, occult blood-
Serum creatinine 150umol/L,
2 months ago, he came to the hospital again due to headache and dizzy, then the blood pressure was 170/100mmHg. Routine urine test shown protein+, occult blood+. Kidney function test shown serum creatinine 180umil/L
Test in our hospital shown: BUN 14.8mmol/L, UA 819umol/L,
Protein-, occult blood+-
Treatment:
Prescribed some Western Medicines to relieve those symptoms, such as high blood pressure
Hot Compress Therapy, Foot Bath Therapy to activating blood and dissolving stasis
Oral Chinese Herb Medicine, enema Therapy to dispel toxins
Maikang Mixture to activate blood circulation
After treatment, his overall condition got improved, BUN downs to 9.1mmol/L, Serum Creatinine downs to 152umol/L, UA downs to 412umol/L.
If you are interested in those treatments he received or want to get kidney failure under control, you can send email to us, we will try our best to help you.
Our email: kidney-treatment@hotmail.com
Any questions? Fill the form below. You will surely get the free medical advice from experts within 24 hours.