FSGS Patient Got Her Creatinine Reduced from 1045 to 318
2017-04-28 19:01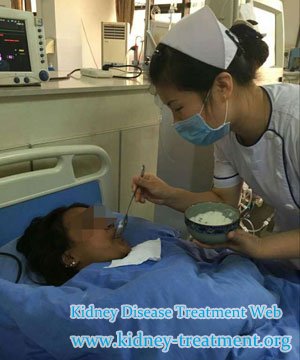 Darshita was diagnosed with FSGS 4 years ago, for better control of her disease, she came to China for treatment on July, 2013. The following are some details about her treatment, let us have a look together.
Patient Name: Darshita
Gender: Female
Age: 14
Nationality: India
Diagnosis: FSGS, Chronic Nephritis, Chronic Kidney Failure (ESRD), renal anemia, renal hypertension, pericardial effusion
Disease History:
About 4 years ago, she was diagnosed with FSGS. At that time, she got swollen in eyelids and lower limbs. The test showed proteinuria 4+ and occult blood 2+. The local doctor only prescribed medicines including prednisone and cyclophosphamide to control her symptoms.
In 2010, Darshita was suffered from swollen in face and lower limbs again and she was taken to the hospital. Diagnosis given at the local hospital is 'Chronic Nephritis, FSGS' with high blood pressure 150/100mmHg, creatinine 1.5mg/dl, and proteinuria 2+. Under the doctor's instruction, anti-hypertensive medicines are prescribed.
Unfortunately, 9 months ago, this little girl presented severe symptoms like nausea, vomiting, headaches, etc. Her dad took her to the local hospital. Test was done again which showed blood pressure 160/100mmHg, creatinine 15mg/dl, haemoglobin 98g/L. Following the doctor's suggestion, Darshita began to undergo peritoneal dialysis. However, her discomforts are not well controlled under this treatment.
"I am very worried because there is no other treatment in India. Fortunately, I find new hope in Chinese medicine, so I decided to came here for better improvement of my girl." Darshita's dad told us.
Treatment in China: Advanced Blood Purification techniques, Micro-Chinese Medicine Osmotherapy, Immunotherapy.
After 30 days systematic treatment, Darshita's condition get great improvement. Her severe swelling disappeared completely and blood pressure got controlled. The test showed serum creatinine level decreased from 1045umol/L to 318umol/L, Hemoglobin increased from 57g/L to 91g/L, BP downs from 150mmHg-100mmHg to 110mmHg-80mmHg
Let's pray for her!
Any questions? Fill the form below. You will surely get the free medical advice from experts within 24 hours.