Stage 3 CKD: Prognosis and Life Expectancy
2014-02-10 02:47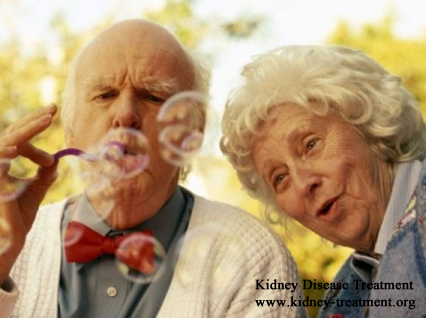 What are the prognosis and life expectancy for stage 3 chronic kidney disease (CKD) patients? This is the mose interested topic for stage 3 CKD patients who want to know how long they can live. However, the prognosis and life expectancy can be decided by many factors, so no one can tell the certain time for living with stage 3 CKD.
As we know, chronic kidney disease can be divided into 5 stages, and stage 3 CKD means the kidneys have been damaged moderately, and the GFR is below 60ml/min but still higher than 30ml/min. In this condition, the illness condition is not so serious and patients don't need to have dialysis or kidney transplant. And the illness condition can be improved if they have effective and prompt treatment.
However, if stage 3 CKD patients don't have effective treatments, they may get into stage 4 or stage 5 quickly, which will make a poor prognosis for patients and make them more and more sick. Here are some factors that mainly affecting patients' prognosis and life expectancy, so patients should firmly prevent the two factors.
- Control high blood pressure
High blood pressure is a common symptom for CKD patients, and it is also a main risk factor which can cause kidney damage, so patients need to firmly control their high blood pressure.
The western medicines such as ACEI and ARB medicines can help lower high creatinine level effectively, and these medicines can also help reduce proteinuria and protect kidney functions. Besides, patients should also keep a low salt diet, which can also lower high blood pressure, and the limiting salt intake can also help protect the heart and blood vessels, which can help reduce the cardio-cerebrovascular complications for patients.
- Keep a low protein diet
When patients get stage 3 CKD, they may have obvious proteinuria, so they need to keep a low protein diet, which can help reduce the kidney burden and protect the kidney function.
In this stage, patients need to take 0.6 g protein every body weight everyday, and they need to take some high quality protein such as meat, fish, milk and egg whites.
Above are the two common factors that can affect the prognosis and life expectancy for stage 3 CKD patients, besides, there are also some other factors such as age, gender, underlying disease and other combined conditions. Therefore, stage 3 CKD patients need to pay attention to all these factors and have effective treatment to improve their prognosis and life expectancy.
Any questions? Fill the form below. You will surely get the free medical advice from experts within 24 hours.