Excessive Urinary Output is It Associated with Kidney Disease
2015-01-10 17:30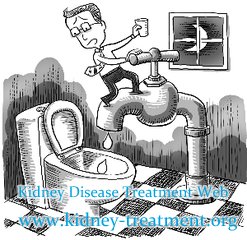 Is excessive urinary output is associated with kidney disease ? It is known that for people with kidney disease, their urinary output will decline gradually due to the decline of kidney function. But you may not know that the excessive urinaty output at night is also associated with kidney disease.
What are the causes of excessive urinary output in kidney disease ?
Substances build up in the tubules of the kidneys, interfering with the reabsorption of water and causing an elevated level of water in the bloodstream which in turn causes the kidneys to increase urine output, and we call this osmotic diuresis.
In rebound diuresis, patients produce excessive urine output as they recover from renal failure. It can also be caused by exposure to cold or prolonged submersion, in which case it is known as immersion diuresis, as the body constricts blood vessels to conserve heat, leading the kidneys to produce more urine.
Also, at the early stage of Hypertensive Nephropathy, Diabetic Nephropathy or Acute Renal Failure, patients may experience the excessive urine output
So you know that in some cases, the excessive urine output can be a sign of a serious problem. It can indicate that the kidneys are malfunctioning. So you should never ignore it, if you are suffering from it, do come to see your doctor timely that can help you prevent the disease goes worse.
If you still have other questions or need any help in treating kidney disease, you are welcome to contact our online docotor or send email to us, we will try our best to help you. Our email: kidney-treatment@hotmail.com
Any questions? Fill the form below. You will surely get the free medical advice from experts within 24 hours.