The Clinical Manifestations Of Kidney Insufficiency
2018-07-03 08:51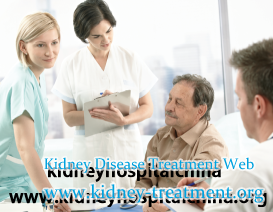 To most person in recent society they often get the kidney problem for their poor rest time, poor diet plan and over-tired labour . At first they often ignore the condition for there is always no any discomforts to them, and the renal disease is a kind of progressing disease, delaying the treatment will lead to the further damage to kidney ,from nephritis to renal insufficiency .There are many people who failed to detect in the early stage of renal insufficiency and did not pay enough attention to it. Renal insufficiency is common in nephrotic diseases. if it is not treated and cared for in time, it may cause serious consequences, such as worsening uremia will come into being.
First, gastrointestinal tract manifestations are symptoms that occur early and more frequently in renal insufficiency. At the beginning, anorexia and abdominal discomfort were the chief complaints. Later, nausea, vomiting, diarrhea, glossitis, foul smell of urine in the mouth, ulceration of the oral mucosa and even massive hemorrhage of the digestive tract occurred.
Second, some patients with renal insufficiency may have mental nervous system manifestations, listlessness, general fatigue, headache, dizziness, memory deterioration, insomnia, numbness of limbs, burning pain of limbs and skin, even itching and pain of lower limbs, which must be moved frequently and cannot be stopped. Later, there will be drowsiness, delirium, muscle tremors, even convulsions, coma.
Third, cardiovascular system manifestations of renal insufficiency. Accompanied by elevated blood pressure, long-term hypertension will cause left ventricular hypertrophy, myocardial damage, heart failure, retention of toxic substances will cause myocardial damage, uremic pericarditis.
Fourth, hemopoietic system performance anemia is a basic symptom of renal insufficiency patients. Besides anemia, it is easy to bleed, such as subcutaneous ecchymosis, epistaxis, gum bleeding, black stool, etc.
5. respiratory system shows deep and long breathing when acidosis occurs. The presence of metabolites can cause uremic bronchitis, pneumonia, pleurisy, and have corresponding clinical symptoms and signs.
6. the skin shows loss of luster, dryness and desquamation.
According to these symptoms about renal insufficiency above we must accept the reasonable treatment in time, for the renal disease is a progressing disease and delaying treatment can deteriorate condition and lead to the worse situation. At present only taking some western medicines can not help you improve the kidney function, then i suggest you should consider another special natural treatment which has been researched for many years by the kidney experts in Beijing Tongshantang Hospital of Traditional Chinese Medicine, the natural treatment can help you strengthen the immune system and has no any side effect to your health, if you are interested in the natural treatment please contact us through the following message:
E-mail: kidney-treatment@hotmail.com
Kidney Treatment Group:
Any questions? Fill the form below. You will surely get the free medical advice from experts within 24 hours.