Risk of Drinking Alcohol Weekly with Diabetic Nephropathy
2014-09-03 09:21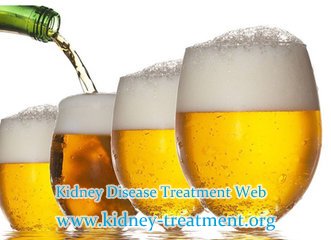 As we all know Diabetic Nephropathy is a secondary disease induced by Diabetes and the most serious complications of it. This disease has become a life-threatening disease, in order to cure this disease, patients with this disease keep a strict diet. If they can not control their diet, it will make further damage to the kidneys. Next let us have a look the risk of drinking alcohol weekly with Diabetic Nephropathy.
In fact almost 90% of alcohol will discharged by liver, only 10% of it will be filtrated by kidney. Even this, it also can hurt the kidneys, especially fro people with renal insufficiency. It will affect the balance of nitrogen, increase proteolysis, thus increase the level of serum creatinine, urea nitrogen and uric Acid. For people who are in the early stage of this disease, after drinking too much alcohol will make the disease worse, even speed up the progression of this disease.
Now you know the risk of drinking alcohol, so as a patient with Diabetic Nephropathy, you need pay close attention to your condition, do keep away from alcohol and other foods which are not good to you. If you want to know whether something is good or not good to you, you can leave messages or consult our online doctors, we will reply you as soon as possible.
A good diet can double the curative effect and a bad diet may make your disease worse, so do make a healthy diet plan that can help you fight with this disease. If you still have other questions about the treatment of Diabetic Nephropathy, youcan email us. Our email: kidney-treatment@hotmail.com
Any questions? Fill the form below. You will surely get the free medical advice from experts within 24 hours.