Protein in Urine Means What for Diabetic Nephropathy Patient
2015-09-01 17:52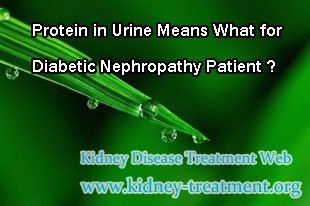 Protein in urine means what for Diabetic Nephropathy patient ? In fact, proteinuria is the progressive indicator of Diabetic Nephropathy. So as a Diabetic once you find protein in your urine you should pay high attention to it.
Diabetic Nephropathy is the mainly complications of diabetes, and it is also the leading cause of death for diabetic. In the early stage, diabetics may have albuminuria, high level of glycosylated hemoglobin, high blood pressure, and so on. Compared with other types of kidney diseases, Diabetic Nephropathy progresses more quickly.
When protein appears in diabetics' urine, they should determine whether they have diabetic nephropathy. If this happens, it means a part of kidney functioning tissues have been damaged. Therefore, once this symptom appears, patients should do test immediately in the regular hospital. Then, patients can detect and treat their kidney disease timely.
Diabetic albuminuria can induce kidney disease easily, so it is very important to reduce it timely. This is helpful to reduce the continuous damage for kidneys, but albuminuria may relapse easily due to cold and tiredness. In view of this, we should focus on treating impaired kidney cells. At the same time, it is also necessary to control patients' blood pressure and blood sugar. Only this can help slow down the progression of diabetic kidney disease.
How to deal with protein in urine ?
The management level of blood sugar and blood pressure is an important factor to affect the prognosis of diabetic kidney disease, so good control of blood sugar and blood pressure can reduce proteinuria, protect the remaining kidney functioning tissues and prevent cardio-cerebral-vascular complications. Meanwhile if the patient can take systematic treatment, they will get a chance to solve this problem totally.
If you need any help in treating Diabetic Nephropathy, you can leave message to us, we will try our best to help you.
Any questions? Fill the form below. You will surely get the free medical advice from experts within 24 hours.