High Creatinine in Diabetes: What are the Causes and How to Reduce It
2016-11-11 16:59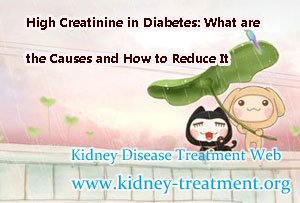 For many patients with years of diabetes, they may experience high creatinine level, but few of them know the causes, in the following i will give you some details about this question.
Why diabetic patient will got high creatinine level?
1. Reducing the amount of water intake is more likely to cause blood concentration and the blood flow in the renal decrease. As a result, creatinine level will rise. Supplying enough water timely is able to help reduce high creatinine level.
2. If diabetics have many years of hypertension which is uncontrolled well, high creatinine and moderate or heavy proteinuria will occur.
3. The last cause is that diabetes in the long time may damage the kidney function. When more than 50% of kidney function is impaired, creatinine level will elevate.
How to reduce high creatinine level for Diabetics?
High creatinine level caused by the former two factors is usually temporary, so changes of lifestyle can help lower it. However, it is difficult to lower high creatinine level caused by the last factors, because elevated creatinine level in this situation is due to impaired kidney function. Normally, our kidneys are responsible to filter waste products including creatinine, and excess water. When the kidneys are impaired, many wastes will build up in the body. As a result, high creatinine level occurs. To lower the persistent high creatinine level, the best treatment is the joint effort of a healthy diet and some repairing treatments, which are able to make part of kidney tissues not damaging completely alive.
Taking correct treatment depending on the causes is the key to lower high creatinine level for diabetics. If you have other questions or want to treat diabetes with high creatinine level well, you can send email to us, we will try our best to help you.
Our email: kidney-treatment@hotmail.com
Any questions? Fill the form below. You will surely get the free medical advice from experts within 24 hours.