How to Treat Diabetics with Hypertension in Chronic Kidney Disease
2013-11-15 10:59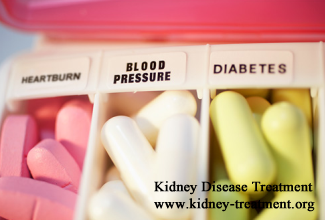 If Chronic Kidney Disease (CKD) is caused by diabetes, we also call it Diabetic Nephropathy. According to clinical research, nearly all diabetics also have hypertension, which can accelerate the progress of diabetic kidney disease. Eventually, these patients suffer from kidney failure easily.
Now, you can know how important it is to treat diabetics with hypertension in Chronic Kidney Disease timely and effectively. Today, you can get the relevant information here.
First of all, some treatments are needed urgently to control high blood glucoses and high blood pressure. Most often, these treatments begin with healthy meal planning and regular exercising. If these measures are not enough to decline high blood glucose and hypertension, patients need to take some medications.
To control diabetic, you can try some anti-hyperglycemic agents, either oral or injected, with doctors' guidance. As for anti-hypertensive drugs, ACEi and ARBs are preferable, because they can not only lower hypertension but also protect kidneys and ease proteinuria and swelling.
Besides these medications, treatment to regulate blood circulation and repair damaged kidney cells are also needed. Here, we have two suggestions, and you can choose a suitable one after consulting the online doctor.
1. TCM: Traditional Chinese Medicine has one history of more than 2500 years on treating chronic kidney disease. On one hand, through expanding blood vessels, stimulating the function of pancreas, it can help treat diabetes and high blood pressure. On the other hand, it can prompt the restoration of damaged kidneys by increasing the blood and oxygen supplement and boosting the self-curative ability of kidney cells.
2. Stem cell therapy: Using the stem cells to differentiate to certain type of kidney inherent cells. This therapy can achieve to rebuild kidney structure and treat Chronic Kidney Disease. However, not all patients can do this therapy.
Lastly, the diet and lifestyle also plays an important role in dealing with diabetes, hypertension and even CKD. If you want to learn more about them, emailing to kidney-treatment@hotmail.com is OK.
Any questions? Fill the form below. You will surely get the free medical advice from experts within 24 hours.