Is Ketosteril Helpful for Diabetic Patients with 35% Function
2013-11-26 14:54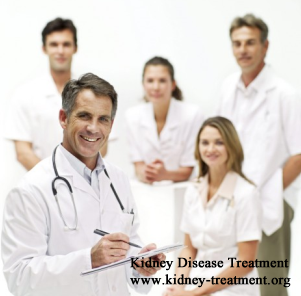 Recently we received an e-mail from a patient, he asked if ketosteril is helpful for diabetic patients with 35% function. As we know, in recent years, both eastern and western scholars advocate the use of ketosteril to help lower creatinine level. But for diabetic patients with 35% kidney function, ketosteril can help lower the creatinine, but it cannot control the creatinine level basically.
Why do diabetic patients with 35% function have high creatinine level?
Kidneys have the function of filtering blood and they can filter the wastes and toxins in blood. Creatinine is the metabolite of muscle and the meat we eat, and creatinine is discharged by kidneys. If kidney function is damaged severely, creatinine will accumulate in the blood which will cause high creatinine level. Therefore, diabetic patients with 35% function have a high creatinine level because of the reduced kidney function. They may be recommended to take ketosteril to lower creatinine level.
What are the effects of ketosteril for lowering creatinine?
Ketosteril has the function of lowering creatinine level. But it also has some side effects such as hypercalcemia (high blood calcium) and metabolic disorder of amino acids. And if patients use this medicine, the curative effects of it are short-lived and they need to take it for a long time. Although ketosteril can help lower creatinine level and treat kidney disease, it cannot solve the kidney problem fundamentally. And it's better for patients to try some other treatments.
What treatments can help diabetic patients with 35% function?
1. Control high blood glucose
Diabetic patients often have the symptom of high blood glucose. If people don't control high blood glucose, it will increase the damage of kidney function and finally get into kidney failure. Therefore, diabetic patients should control the blood glucose firmly.
2. Repair kidney damage
High creatinine level is caused by kidney damage, so patients should repair the kidney damage and it will lower the creatinine level fundamentally. Patients with diabetic are recommended to take Chinese medicine to treat their illness. Some Chinese medicines have the function of repairing damaged kidneys. They can activate the damaged kidney cells and improve kidney function. For patients with 35% function, Chinese medicine will have good effect on its repair. Chinese medicine can repair the damaged kidney tissues, but the dead kidney cells cannot be repaired. Through the treatment of Chinese medicine, the 35% kidney function can be improved to 50% or more. Then the kidneys can filter more creatinine.
3. Keep a rational diet
We all know that kidney disease patients should have a limited diet, so it is not an exception for diabetic patients.
- take little meat and avoid strenuous exercise
As we know, creatinine is the metabolite of meat and muscle, so diabetic patients should limit the meat intake and avoid strenuous exercises in order to reduce the production of creatinine. It can also reduce the kidney burden and protect the residual kidney function.
- take proper protein
Diabetic patients should also limit the daily protein intake so as to reduce kidney burden. They are recommended to take some high quality protein foods such as egg whites, meat, milk and fish. The amount of protein intake and the foods they eat are based on their illness condition. And they should follow the advices of their doctors.
Besides, diabetic patients with 35%function should also follow some other dietary principles such as low-salt diet, low- sugar diet and take proper potassium, phosphorus and other microelements they need. All these will be helpful for their illness condition and help improve their kidney function.
Through these treatments, patients will remit the obvious symptoms such as lowering the creatinine level and improve their kidney function. Using these treatments, diabetic patients with 35% function will improve their illness condition and live a high quality life for a long time.
Any questions? Fill the form below. You will surely get the free medical advice from experts within 24 hours.