What are the Pros and Cons on the Home Dialysis
2014-10-18 16:23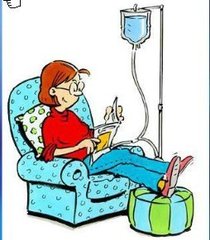 What are the pros and cons on the Home Dialysis ? The home dialysis referred is called "Continuous Ambulatory Peritoneal Dialysis" (CAPD), it can allow patient to do it at home, but it is easy to get infection without good take care.
During this treatment, a catheter is surgically inserted into the peritoneal cavity of your abdomen (not into the stomach). The cleaning solution is infused into the catheter and left to dwell for a period of hours. The fluid bathes the organs and works through osmosis (high concentrations moving to low concentrations, and low concentrations moving to higher ones).
The operation procedure is easy to learn, so people can do it at home. What's more, it allow them to do it during work. The only thing they need to do is to exchange solution every six hours. Do not worried that you can not operate it by yourself, because they will give you a booklet to help you along and they make sure that they demonstrate it to you and that you can demonstrate it back to them without mistakes.
Some doctors are prefer "night cyclers", which offer the home dialysis patient much more freedom. The bulk of the exchanges take place during the night over a period of 10 or 12 hours, with only one exchange being required in the day.
But a major cons of home dialysis is that you can't get the catheter area wet, that means you can't bath in more than a few inches of water, and absolutely no swimming, which may increase the risk of infection.
The above are the introduction of pros and cons on the home dialysis, hoping it can help you in some degree. If you need any help, do not hesitant to tell us by email, we will provide free advices for you. Our email: kidney-treatment@hotmail.com
Any questions? Fill the form below. You will surely get the free medical advice from experts within 24 hours.