What are the Complications of Dialysis
2015-04-18 16:10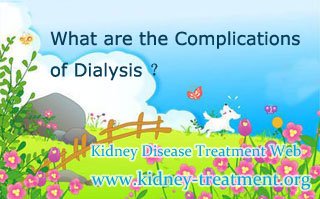 What are the complications of dialysis ? As we all know, dialysis also known as artificial kidney. It refers to a method that wastes in blood are removed through semipermeability membrane, which can protect patients from toxic damage by removing some toxins in time. But long-terms of dialysis will bring some complications.
Firstly, low blood pressure. When patients systolic pressure declines by more than 20mmHg or mean arterial pressure declines by more than 10mmHg, along with low blood pressure symptoms, which shows patients suffer low blood pressure in dialysis. Here are some methods to deal with it. One, taking head-down; Two, stopping ultrafiltration; Three, supplying 100ml normal saline or albumin solution; Four, supplying normal saline again if blood pressure doesn't recover, or applying drugs that rising blood pressure if blood pressure declines rapidly!
Secondly, nausea and vomiting. The reason of it can be low blood pressure, imbalance syndrome etc. Thus, treatment contains three parts, namely taking urgent treatment for patients whose pathogen is low blood pressure; adopting asymptomatic treatment on the basis of pathogen, like applying antemetic; strengthening observation and nursing , so that avoid aspiration.
Thirdly, headache. The common reasons of headache have severity high blood pressure, stoke, and so on. Patients who tend to drink coffee for a long time also can feel headache . The treatment contains two aspects, one is intervening headache according to pathogen; another is using drugs to stop headache, for example, acetaminophen.
Fourthly, skin itch. Though the pathogenesis of skin itch is not very clear now, it has close relations with dialysis and calcium-phosphorus metabolism disorder. Some drugs or dialyze reactions also should be considered. As for the treatment, doctors can take proper treatment, including prescribing patients antihistamine drugs, external skin lubricating oil.
Except the above complications, there are some other ones. If you want to know more details about dialysis or want to get rid of it, you can send email to us, we will try our best to help you. Our email: kidney-treatment@hotmail.com
Any questions? Fill the form below. You will surely get the free medical advice from experts within 24 hours.