Why the Kidney Function Has No Improvement after Dialysis
2015-06-20 17:24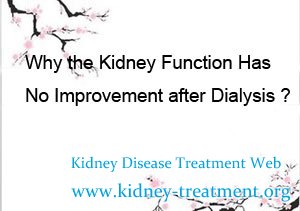 "I have been on dialysis for several months but why the kidney function has no any improvement ? In addition, my urine is less than before can you tell me the reason." one of the kidney disease patient asked me. Actually been on dialysis but no improvement on kidney function is not a personal problem, it concerned with many people who are on dialysis. Next i will share you some related information about it and hoping can help you.
Why patient has been on dialysis several months but the kidney function has no improvement ?
Dialysis is a treatment which outsources the functions of failed kidneys. It is often needed when one develops ESRD (End-stage Renal Disease) and by the time, one has already lost 85 to 90 percent of kidney function. The therapy is able to keep your body in balance since your own damaged kidneys couldn't do their job well. But it can not repair the damages kidneys nor improve the kidney function, so that is why patients have been on dialysis several months but no improvment in kidney function.
Why the urine is less after taking dialysis ?
You know that kidneys play an important role in producing urine, so once the kidneys damaged it cannot work like before, so the output of urine will be affected. For people who are taking dialysis, their kidney function will decline day by day, so the urine will become less and less. Only after the kidney function improved, the urine will increase too.
Micro-Chinese Medicine Osmotherapy as an effective therapies in treating kidney disease can help people who are on dialysis live better, in addition, it can help to reduce the times of dilaysis by improving the kidney function.
If you have other questions about dialysis or need any help in improving kidney function, you can leave message to us or send email to us, we will try our best to help you.
Our email: kidney-treatment@hotmail.com
Any questions? Fill the form below. You will surely get the free medical advice from experts within 24 hours.