How to Treat Headache and Vomiting During Dialysis
2013-12-31 00:43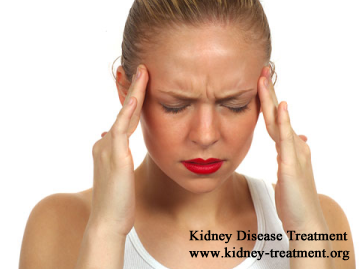 Headache and vomiting are common symptoms for kidney disease patients who are on dialysis, which will make bad effects on patients' daily life. Therefore, how to treat the headache and vomiting during dialysis?
Dialysis is a general treatment for kidney disease patients when their kidneys are fail to work normally. Using special dialysis machine, the wastes and toxins and the excess fluids can be filtered out. However, patients will suffer from low blood pressure if the excess fluids removed from the body, then patients will get headache, nausea and vomiting.
Besides, the most common cause of headache is dialysis disequilibrium syndrome, which is caused by the decrease of urea level during dialysis and slowly compensated cerebral fluid shifts.
How to treat the headache and vomiting during dialysis?
- Patients should not take medicines before they have dialysis, unless the doctors ask them to do. Because the medicines intake will cause pressure becoming lower and patients will experience serious discomforts.
- Patients should control their fluid intake, because the dialysis will remove the excess fluids. If patients drink too much fluids, after dialysis, the blood volume will drop obviously which will cause low blood pressure.
- Patients should also reduce their salt or sodium intake, because too much salt intake will cause swelling and high blood pressure, which will also cause the low blood pressure during dialysis.
- Patients should also control their high blood pressure, and high blood pressure is also a main cause of headache and vomiting during dialysis. Therefore, dialysis patients should control their high blood pressure effectively.
As we know, there are various factors that can cause headache and vomiting for patients during dialysis, so they should find the basic cause of their discomforts. Then they can have effective treatment to prevent their headache and vomiting.
Any kidney problems? Please consult our online doctor. The satisfaction of patient is as high as 93%.
Have a question regarding kidney disease? Get an answer from Medical Professional now!