What are the common side effects of dialysis for kidney failure patients
2014-01-17 07:11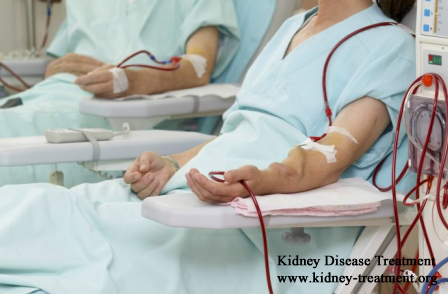 For end stage kidney failure patients, dialysis is a common treatment for them. However, dialysis can help patients to prolong their life expectancy, but, there are still some side effects of dialysis for kidney failure patients, which may be life-threatening. Then what are the common side effects of dialysis for kidney failure patients?
1. Headache
Headache is a common complication for dialysis patients, because of the large amount of water and electrolyte shifts during a dialysis especially hemodialysis.
2. Low blood pressure
Low blood pressure is also a common side effects of hemodialysis because of the drop in fluid levels. The low blood pressure can also cause nausea and dizziness.
3. Muscle cramps
Muscle cramp often occurs during the dialysis, and the muscle cramp is often the leg cramp. The muscle cramp is often caused by the fluid loss during dialysis.
4. Itchy skin
Itchy skin is usually caused by the build-up of phosphorus in blood, which is also a common complain for hemodialysis patients. So patients who are on dialysis should avoid their foods which are high in phosphorus.
5. Hernias
Hernias is a common complication of peritoneal dialysis patients, and patients can only treat the hernias through a surgery.
6. Infection
Infection is the most common side effect for both hemodialysis patients and peritoneal dialysis patients, and the patients with infections will have the symptoms of fever, pain, red and swelling on the arm or belly area.
7. Tiredness
For dialysis patients, they often feel tiredness, which is mainly caused by the loss of kidney function, overall stress and anxiety and dietary restrictions associated with dialysis.
Above are the common side-effects of dialysis for kidney failure patients, which will also cause kidney failure patients sicker. For kidney failure patients, if they still have urination and don't have some serious symptoms, we don't recommend them to start dialysis. They can have some alternative treatment to remedy their kidney disease which will improve their kidney function and prevent the dialysis.
Any kidney problems? Please consult our online doctor. The satisfaction of patient is as high as 93%.
Have a question regarding kidney disease? Get an answer from Medical Professional now!