I Want to Regarding Immunotherapy for My Father With Creatinine 9.32
2017-11-01 11:05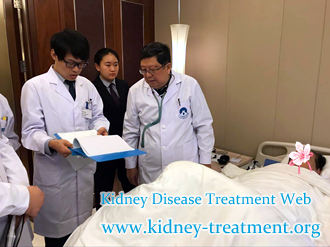 Guest 10-25 17:10:49
My father is suffering from kidney disease.
kidney-expert 10-25 17:11:21
What is the current kidney function or creatinine level? Do you know?
Guest 10-25 17:11:53
Creatinine is 9.32. I want to regarding immunotherapy.
kidney-expert 10-25 17:11:55
Immunotherapy is one of our characteristic treatments, which composed by six step: accurate diagnosis, immune blocking, immune adjustment, immune tolerance, immune clearance and immune protection. It can help the patients improve the kidney function as well as immunity naturally.
kidney-expert 10-25 17:12:01
His creatinine level is too high. Has he started dialysis?
Guest 10-25 17:12:10
Yes, I want to know more about Immunotherapy. How does it work for him? What is the whole cost? How long should he stay at your hospital? Can he return to normal with it?
kidney-expert 10-25 17:12:18
That depends on his currently illness condition. Does he has diabetes, high blood pressure, or other problem?
Guest 10-25 17:12:52
Yes.
kidney-expert 10-25 17:13:06
These are reasons which would lower the kidney function. He had better make them under the control and take the heatlhy diets and lifestyle to protect the kidney and delay illness condition.
Guest 10-25 17:13:17
You haven't answer my question. I am very worried.
kidney-expert 10-25 17:13:27
OK, please do not worry, we can help. Word is limited here. How about this, send his medical reports and your contact information to me, and then I will analyze it and give you the information about treatments and diets in details.
Guest 10-25 17:13:44
OK. Please reply me as soon as possible, e-mail address is, mobile no is.
kidney-expert 10-25 17:16:11
We will communicate with you within 24 hours, pay attention to your mobile and email.
Any kidney problems? Please consult our online doctor. The satisfaction of patient is as high as 93%.
Have a question regarding kidney disease? Get an answer from Medical Professional now!