Cause and Treatment for Foamy Urine in FSGS
2013-09-21 10:24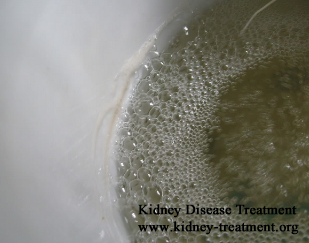 If you are a FSGS patient, you may find there are lots of foams in your urine. These foams or bubbles are not big, and stay in there for a very long time. Why is this? What causes foamy urine in FSGS and how to treat it effectively? Here we will give introduction about the cause and treatment for foamy urine in FSGS.
Cause of foamy urine in FSGS
Foamy urine is an abnormality and in medicine, it always indicates proteinuria which refers to the presence of excess protein in urine. Protein is the basic of life and usually ingested from daily foods. FSGS is an illness in which a group of glomeruli are injured partially. In a healthy kidney, glomerulus plays the role of filtering blood. When glomeruli are damaged, protein leak into renal tubule while flowing through glomeruli. With excess fluid and other wastes, proteins get out of the body as urine. Under such a condition, urine becomes foamy. Usually, the more protein in urine, the more bubbles in urine and also the more serious the illness. Therefore, severity of foamy urine or proteinuria helps to reflect the severity of FSGS.
Treatment for foamy urine in FSGS
With foamy urine, FSGS patients need to realize that a tight control of this symptom is very important, as uncontrolled proteinuria will worse illness and accelerate FSGS to kidney failure.
To receive satisfactory treatment effects in treating foamy urine associated with FSGS, the following measures are generally needed:
1. Management of high blood pressure
High blood pressure is a factor that can cause further deterioration of proteinuria or foamy urine. Therefore, an effective management of proteinuria is very important. In medicine, the most commonly used antihypotensive drugs for FSGS patients are ACR inhibitors and ARBs (ngiotensin II receptor blockers).
2. Proper protein intake
A high protein intake will aggravate proteinuria, so knowing how much protein to ingest every day is very important for FSGS patients. Generally speaking, if their illness is in early stage, they can ingest 0.6-0.8 grams of protein per kilogram of body weight per day. However, for these whose illness has developed to an extremely severe stage, 0.2-0.4 grams of protein per kilogram of body weight is needed every day. Besides, for FSGS patients who have started dialysis, they need to ingest much protein (1.2g/k/d) as some protein may be filtered out during dialysis.
3. Repair kidney damages to restore kidney function
Protein leak into urine due to damaged glomeruli, so only when kidney damages are repaired and kidney function is restored, can proteinuria or foamy urine be removed radically. Micro-Chinese Medicine Osmotherapy is suggested for FSGS patients to treat foamy urine, as effective ingredients in micro-Chinese medicine have been proven to be able to repair injured kidney intrinsic cells.
Any kidney problems? Please consult our online doctor. The satisfaction of patient is as high as 93%.
Have a question regarding kidney disease? Get an answer from Medical Professional now!