How Can My Brother Gain Further Information about Chinese Medicine
2017-11-15 14:00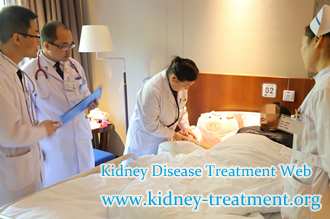 Hello, I heard that you are kidney specialist hospital. This is why I am sending you this message. My brother's kidney function is damaged. He is currently having dialysis twice a week. His creatinine level is 12. We would like to get Chinese consultation. Can you please guide how to get further information about his treatment? Or do you need his test report?"
Hello. I am a doctor of Beijing Tongshantang Hospital of Traditional Chinese Medicine. Chinese Medicine in our hospital including Micro-Chinese Medicine Osmotherapy, Oral Chinese Medicine, Toxin-Removing Therapy, Steaming Therapy, Acupuncture and so on. It has been developed and put into use to diagnose, treat and prevent illnesses from root cause for more than two thousands of years. Nowadays, it takes a conspicuous effect in treating kidney disease patients. However, which single or combined treatment can do better to your bother is based on his illness conditions. Hence, if you do not mind, please send his test reports to me.
For his case, creatinine 12 shows that at most 10% of the kidney is working well to remove the unwanted and harmful things. Also, it is an index of a great deal of toxins and wastes built up in the body. Moreover, various illnesses will occur among the patients, even the patients will be in mortal danger. This is one of the reasons why he is needed to go through dialysis. Except for effective treatments, creatinine 12 also require the patients to change their diets to protect kidney and avert certain discomforts.
Back to Chinese medicines, it can only help him repair the diseased but not necrotic kidney inherent cells and tissues. In an other word, if he do not have any kidney function left, what we can do for him is to try our best to dispel symptoms and lessen the frequencies of dialysis. To have a clear high-level view of his illness condition, can you answer some personally question? What is his kidney function now? How long has he been on dialysis? How about his urine output? Does he have any discomforts? Do he have diabetes, hypertension or infection?
Looking forward to your reply. If you need any help, please do not hesitate to contact me. I will try my best to help you.
E-mail: kidney-treatment@hotmail.com
Any questions? Fill the form below. You will surely get the free medical advice from experts within 24 hours.