How to Remedy Hematuria with Chinese natural herbs
2013-12-22 09:29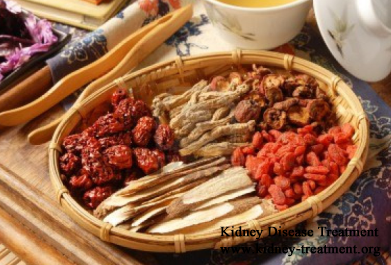 How to remedy hematuria with Chinese natural herbs? Hematuria is a common symptom for kidney disease patients, which is caused by kidney damage. Meanwhile, there are some other causes that may make people have hematuria, such as infection in urinary system. Therefore, when people suffer from hematuria, they should find the cause first.
What triggers can cause hematuria?
Hematuria can come from kidneys, as urine is made from kidneys. When people have kidney disease, they may have hematuria. Besides, the urine also pass through the urinary tract, then hematuria may also from these structures such as bladder, ureter, urethra. When one of these structure get infection, people may have blood in urine.
Besides, some other medical condition may also cause hematuria, such as strenuous physical activity and repeated jarring of the bladder.
Chinese natural herbs for hematuria
As kidney damage is a common cause of hematuria, here we will share some Chinese natural herbs for kidney disease patients who have hematuria.
- Shepher's purse
shepher's purse exact has the function of antihemorrhagic and reducing internal bleeding in digestive, reproductive and urinary system. Besides, the herb contains large amount of antioxidant bioflavonoids, and it is also a urinary antiseptic and antipyretic.
- Cornsilk
Cornsilk tea is helpful for controlling the blood urine, as it can remedy the inflammation in kidneys, prostate and painful urination. Cornsilk tea is often taken as a natural diuretic, which can also remit the symptom of swelling and high blood pressure.
- Marshmallow root
The marshmallow root has the function of remitting the urinary inflammation, irration and cystitis. Besides, it can also improve the immune system.
Above are the natural herbs for kidney damage caused hematuria. Hematuria is a serious condition for kidney disease patients, they should have effective treatment on their hematuria snd kidney damage. If they ignore the hematuria, they may get further kidney damage or even get end stage kdieny failure. Early prevention and treatment will be a nice choice for kidney disease patients to live a long and high quality life.
Any questions? Fill the form below. You will surely get the free medical advice from experts within 24 hours.