Frequent Urination at Night and Hypertensive Nephropathy
2013-11-04 11:10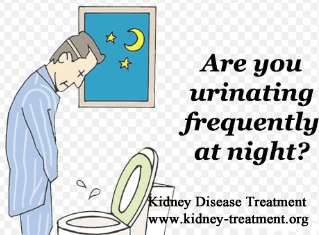 Be alert about frequent urination at night if you are a sufferer of years of uncontrolled hypertension, because it may indicate serious kidney problem. Kidney disease caused by high blood pressure is called Hypertensive Nephropathy in medicine and also it also can be commonly called hypertensive kidney disease.
How is frequent urination at night linked with Hypertensive Nephropathy?
In our daily life, many illnesses like urinary tract infection, bladder problems and kidney problems can cause urine changes. Frequent urination at night is related with Hypertensive Nephropathy as kidney is responsible for producing urine.
In our kidney, there are about one million nephrons which is composed of renal capsule, glomerulus and renal tubule. Glomerulus works by filtering blood and during this process, blood is purified. After that, fluid filtered by glomeruli will flow through renal tubule which has reabsorption function. Renal tubule reabsorbs most of the fluid filtered by glomeruli and rest fluid is called urine.
For people with Hypertensive Nephropathy, long-term high blood pressure affects their renal tubule from functioning properly. Under such a condition, substances and fluid filtered by glomeruli can not be reabsorbed effectively and they are finally excreted out of the body as urine. This is the reason why Hypertensive Nephropathy patients have increased urine output at night.
How to alleviate this symptom?
Frequent urination at night affects patient's sleep quality and daily work seriously, so it is necessary for Hypertensive Nephropathy patients to find an effective solution to remit this symptom.
According to the information we mentioned above, we know that urine output is increased because of the decreased function of renal tubule, so only when damaged renal tubule is damaged, can this problem be solved fundamentally. As for the treatment for injured renal tubule, here we recommended Chinese medicine which has been proven to be able to repair injured kidney damages and improve kidney function. Besides, to receive better treatment effects, patients also need to bring their blood pressure into normal range strictly. As long as real cause of kidney damages are controlled well and kidney damages are repaired effectively, kidney function can be improved successfully and also problem of frequent urination at night can be solved.
Any questions? Fill the form below. You will surely get the free medical advice from experts within 24 hours.