What Is the Diet Plan for Kidney Failure
2013-10-05 16:03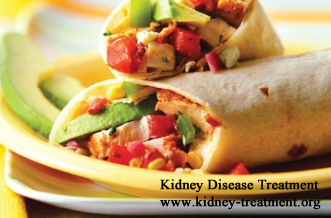 What is the diet plan for kidney failure? We all know kidney failure patients can not eat casually, as improper diet will worsen their illness directly. For this reason, knowing what foods can eat and what foods should be avoided is very necessary for kidney failure patients themselves and their nursing staff.
In cases of kidney failure, how to make a diet plan depends on patients' illness very much. Generally speaking, for kidney failure patients who have started dialysis, their diet plan is different from those who are on dialysis.
Kidney is an organ which works as a filter. For people whose kidneys have been damaged seriously, they need to limit their protein intake to 02.g/k/d and meanwhile try to eat some high quality protein foods like egg white, lean meat, fish and milk. However, if someone has started dialysis, he generally needs to ingest more protein (1.2g/k/d), as some protein might be lost during dialysis.
Besides, no matter kidney failure patients have started dialysis or not, they need to be very careful about fluid intake. If they are on dialysis, they need to reduce fluid intake, so as to lower their risk for side effects that are caused easily during dialysis when one drinks lots of water. Whereas, if they have no started dialysis, they also need to adjust fluid intake as drinking too much water will increase kidney burden and cause worsening of illness.
Also, kidney failure patients need to regulate potassium intake and phosphorus intake and this is closely related with their potassium level and phosphorus level in blood. In most cases, kidney failure patients suffer from high potassium level and high phosphorus level in blood, so they need to stay far away from high potassium foods and high phosphorus foods like banana, spinach, white beans, baked potatoes, avocados, white mushrooms, cheese and nuts and so on.
Lastly, while making diet plan, people who are living with kidney failure also need to exclude salty foods like pickle, bacon, soy sauce, cheese, snack foods and saltwater crab and so on. High salt intake will increase blood pressure and trigger fluid retention, which are harmful for patients. (Any questions about diet plan for kidney failure, please feel free to+ leave message to kidney-treatment@hotmail.com or consult our consultant online directly)
Any questions? Fill the form below. You will surely get the free medical advice from experts within 24 hours.