Can People Eat Bananas with Kidney Failure
2013-12-03 11:47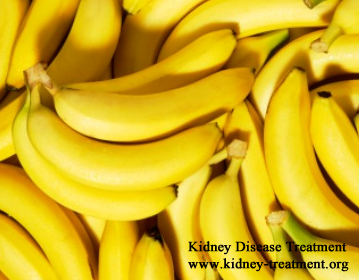 Can people eat bananas with kidney failure? As we know, bananas are popular fruits among people because of its beautiful yellow color and delicious taste. But for kidney failure patients, they need to pay more attention to what they eat. If they eat the wrong foods, their illness condition may worsen more seriously. Therefore, for kidney failure patients, they should know if they can eat bananas.
What are the benefits of eating bananas?
Children and adults alike love sweet, nutritious bananas, because it has many benefits for people's health. Bananas contain a lot of nutrients such as calories, cholesterol, potassium, vitamin C, vitamin B-6, manganese, fiber and other nutrients. All these nutrients are helpful for people's health.
Can people eat bananas with kidney failure?
However, for some kidney failure patients, they need to avoid eating bananas, because bananas are high in potassium. Although potassium are able to lower blood pressure and protect against heart attack and stroke, it is harmful for kidney failure patients.
Healthy kidneys can keep a right potassium level in body, and when kidneys get damaged, they cannot discharge excess potassium timely, which will cause high potassium level. High potassium level may cause some symptoms such as hyperventilation, nausea, slow or weak pulse. What's more, high potassium level may also cause serious disease such as heart problem. Therefore, for kidney failure patients, if they have high potassium level, they need to get rid of bananas.
Because the illness conditions of kidney failure are different from case to case, when some kidney failure patients have high potassium level, some other patients may have low potassium level. Both high or low potassium level are harmful for the recovery of kidney failure, so patients should keep right amount of potassium in body. Depending on the potassium level of patients, they should eat right of these high potassium foods below:
Dried apricots, dried zante currants, dates, dried coconut, avocados, banana, kiwi fruit, nectarines, peaches, sun-dried tomatoes, spinach, mushrooms, sweet potato, kale, green beans, asparagus and so on.
The intake of these foods are depending on the illness condition of patients with kidney failure. Patients need to keep a strict diet plan to get what to eat and what not to eat, and a right diet will help protect the residual kidney function and slow down the progression of kidney failure. If you want to get a personalized recipe depending on your illness, you can send your test reports to kidney-treatment@hotmail.com. Our nephrologist will answer you as soon as possible.
Any kidney problems? Please consult our online doctor. The satisfaction of patient is as high as 93%.
Have a question regarding kidney disease? Get an answer from Medical Professional now!