Kidney Failure with So Many Symptoms Is Dialysis the Best Choice
2015-10-18 15:36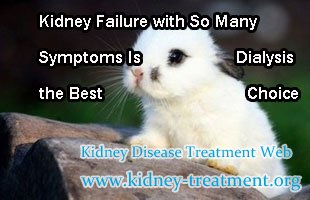 The patient is William, he is 49 years old, these are his discomforts: itchiness,cramps, short breath sometimes,...his kidneys are in normal size in the last ultra sound, urine is almost 750ml at night time. The doctor recommend him to take dialysis. I want to know is dialysis the best choice for him ?
Hi, glad to help you! From the description of yours, the dialysis are not enough to control his kidney disease, besides, there is side-effect in his body now, so we do not suggest him to take dialysis to treat the disease.
kidney disease, in other word, is the blood toxin disease, for the kidney treatment, we should remove the toxin and to promote the blood circulation in body to improve the kidney function. You know the basic cause of the kidney disease is the lack of the blood and oxygen. So if he can get the proper treatment in time, he can get a chance to live a quality life without dialysis.
Why we said that he has a chance to avoid dialysis ?
1. his both kidney size are normal, which means his kidney unites are not damaged seriously. There are more than 1 million glamorous in one kidney. The glamorous in his kidneys can be divided to 3 parts. One part of glamorous are healthy, they are maintaining the rest of his renal function. One part of his glamorous are been damaged due to lack of blood and oxygen in his kidneys and inflammation reaction in his kidneys. so what we do now is to protect his damaged kidney cells and repair his damaged kidney function.
2. there is urine 750ml, as the kidney failure patient,urine output, which means the blood and oxygen still can through his kidney cells, which means the damaged kidney cells have the potential to improve.
3.he is 49, not too old, have the good orgasim to recovery.
so if the get the proper treatment, his condition can be improved and have the hope to avoid dialysis.
If you want to know avoid dialysis or need any help in treating kidney failure, you can leave message to us, we will try our best to help you.
Any questions? Fill the form below. You will surely get the free medical advice from experts within 24 hours.