Chinese Herbs for Kidney Failure
2013-12-05 15:41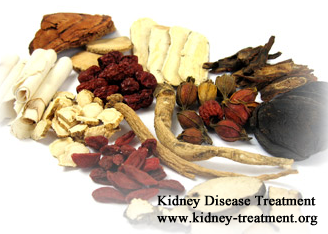 Kidney failure is a common kidney disease with the gradually reduced kidney function. If patients don't have effective treatment, they will finally develop into end stage kidney failure. Some patients send e-mail to us asking about Chinese herbs for kidney failure.
As we know, some Chinese herbs have the function of repairing the damaged kidney and improving kidney function, which can finally avoid end stage renal failure.
Here, we will recommend some Chinese herbs for kidney failure.
1.Chinese rhubarb
Rhubarb can decrease the serum creatinine and urea nitrogen level in blood, improve the excretion of lipid, inhibit the hypertrophy and hyperplasia of kidney tubular epithelial, and reduce glomerular sclerosis. All these will delay the progression of kidney failure.
2.Cordyceps sinensis
Cordyceps sinensis is Chinese traditional valuable herbs, and it can improve the immunity function which will improve the illness condition. It can also reduce BUN and serum creatinine level, and increase the volume of plasma proteins. On the other hand, it can regulate cellular immune, and regulate the balance of amino acid, protein and lipid metabolism. A long-term in take of cordyceos sinensis will protect and repair kidney function and prevent the secondary infection.
3. Dan shen
Salvia can decrease the BUN and creatinine level obviously, and it can improve the clearance rate of BUN and creatinine. The intake of salvia can increase the prognosis and improve the blood flow of kidneys which will finally reduce the kidney damage.
4.Thunder god vine
Similar with cortical hormone, but thunder god vine has no side effects on patients. It can be used
as a new-type of immunosuppressive drug.
5.Astragalus membranaceus
It can improve the function of cell-mediated immunity and humoral immunity, and increase the immunity of human body. It also can decrease the serum creatinine level, and improve kidney function.
Besides, there are also some other herbs that are good for kidney failure, such as ho shou wu, ginseng, java tea and couch grass.
However, the illness conditions of kidney failure patients are different, they need to have the right treatment depending on their illness. Therefore, before they try to take Chinese herbs for kidney failure, they need to ask the advices of their doctors and follow the strict doses of medications.
Any questions? Fill the form below. You will surely get the free medical advice from experts within 24 hours.