Herbal Teas Benefit the Kidney Function of Lupus Nephritis Patients
2013-12-02 11:35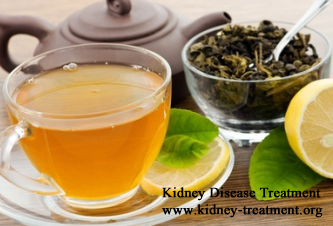 Lupus nephritis is a common kidney disease, and it refers to kidney problem resulted from years of uncontrolled SLE (Systemic Lupus Erythematosus ). For patients with lupus nephritis, they may have some serious symptoms, such as proteinuria, hematuria, swelling, high blood pressure , high creatinine level from blood test and frequent urination at night. All these are due to kidney damage.
In order to treat lupus nephritis, patients should have effective treatment and have a well-planed diet. Besides, patients can also take some herbal teas which benefit their kidney function.
Herbal teas that benefit the kidney function of lupus nephritis patients includ:
Cordyceps mushroom tea
Cordyceps mushroom is a rare herbs in China, and it can be taken as tea. Knowing from a study, taking cordyceps mushroom tea has the function of lowering high creatinine level, and it can also prevent the recurrence of lupus nephritis and protect kidney function.
Nettle tea
Nettle is a natural herbal remedy to lower high creatinine level in blood, and nettle leaf is powerful kidney tonic and it can help improve kidney function. On the other hand, nettle leaf tea can also help clear excessive uric acid from blood. And nettle leaf and nettle stem contain rich protein, vitamin, renieratene and various minerals and trace elements. Therefore, a long-term taking of nettle tea will be helpful for the improvement of their illness condition and improve their kidney function.
Ginseng tea
Genseng is also a rare traditional Chinese herb which has been used for more than 3,000 years. Taking genseng tea has many benefits. It can remit the symptoms caused by kidney disease, such as building up appetite, remitting fatigue and benefiting blood circulation. It can also increase the immune system. All these will be helpful of improving kidney function for patients with lupus nephritis.
From the above, we can get the benefits of herbal teas which are helpful for improving kidney function. Patients with lupus nephritis can try these teas to improve their illness. However, the herbal teas may have the opposite effects with some medicines which patients are taking, so it's better for patients to ask the advices of their doctors before they taking herbal teas.
Any questions? Fill the form below. You will surely get the free medical advice from experts within 24 hours.