Management of Hyperlipidemia for Nephrotic Syndrome Patients
2014-02-11 01:45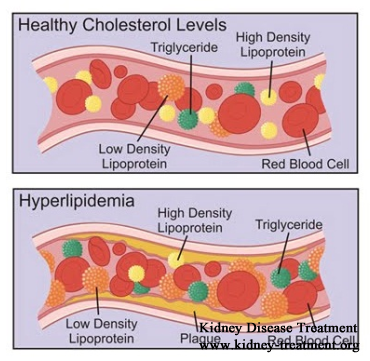 Nephrotic syndrome is the performance of kidney dysfunction, and people with nephrotic syndrome will suffer from four main symptoms. Hyperlipidemia is a main symptom among the four common symptoms. Then how does nephrotic syndrome cause hyperlipidemia? And how to manage the hyperlipidemia in nephrotic syndrome?
How does nephrotic syndrome cause hyperlipidemia?
The cause of hyperlipidemia for nephrotic syndrome is not very clear, the experts think that hypoproteinemia(a main symptom of nephrotic syndrome) caused reduction of colloid osmotic pressure or lost a regulating factor in urine will cause the increased levels of cholesterol, triglyceride and lipoprotein. And the damaged kidneys cant excrete these lipids, which will cause high level of any or all lipids, so hyperlipidemia becomes a common symptom for nephrotic syndrome patients.
How to manage the hyperlipidemia for nephrotic syndrome patients?
For nephrotic syndrome patients who have hyperlipidemia need to first get clear with the main type of lipids that is higher than the normal, since different type of high lipid level need to make different management. Patients need to take some medicines which can help lower the high lipid level, and they also need to avoid fatty foods and reduce the calorie intake in their daily diet.
Although these methods can help patients lower their hyperlipidemia, they also need to have treatment to improve their overall health. Here we recommend nephrotic syndrome patients to take Immunotherapy to remedy their disease, and immunotherapy uses traditional Chinese herbal medicines and combines with western medicine technologies. Through Immunotherapy, the kidney function can be improved, and we also combined blood purification methods together, which can help purify the blood. Through the systemic treatment, patients can get great improvements on their illness condition and improve their kidney function, which can relieve their symptoms fundamentally.
Any questions? Fill the form below. You will surely get the free medical advice from experts within 24 hours.