Diet for Polycystic Kidney Disease Stage 1
2013-11-21 15:40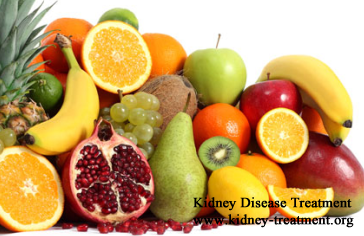 In Polycystic Kidney Disease Stage 1, patients still have high level of kidney function. Here, a healthy diet plays an important role, because it can help slow the progress of PKD. If you happen to have Stage 1 PKD, it is necessary for you to make clear the following information.
The diet should depend on patients' illness condition
Different from other types of kidney disease, Polycystic Kidney Disease is an inherited kidney disorder. In most cases, it needs several decades that PKD develops into kidney failure. In stage 1, cysts in PKD patients' kidneys are still so small that they nearly don't cause any damage to kidney inherent cells. Thereby, the purpose of your diet should be able to help shrink kidney cysts and protect kidneys.
Today, we prefer to teach you to develop a healthy diet by introducing suggested and forbidden foods.
Suggested foods for people with Polycystic Kidney Disease Stage 1
Foods high in omega-3 fatty acids: It is reported that omega-3 fatty acid can help prevent inflammation and keep PKD from worsening Fish oil, flaxseed or linseed, walnuts and pecans, etc, are good sources of this substance. You can take in correct amount of them especially flaxseed oil in your daily life.
High-fiber foods: This kind of foods are able to combat insulin resistance, while elevated insulin level has a close link with heart disease and progression of PKD. Fruits, vegetables, whole grains and legumes, are rich in dietary fiber.
Foods with properties of antioxidants: For PKD patients, urinary tract infections or kidney infections are common symptoms. Antioxidants can help improve patients' immunity so as to prevent infections. Good sources of antioxidants, in addition to cranberry, blueberry and kiwi fruits, are lemon, red bell pepper, etc.
Forbidden foods for people with Polycystic Kidney Disease Stage 1
Salty foods: Since hypertension occurs usually as the first symptom of PKD, controlling hypertension is one inevitable part of the whole treatment. Foods high in salt can worsen this symptom, so PKD patients should restrict their intake strictly.
Caffeine: It can cause dehydration and hinder kidneys from flushing out waste products, so coffee, black tea, green tea, cola, etc, should be limited.
Of course the individual diet should depend on patients' illness condition. If you want to get a personalized diet plan, welcome to leave a message to us in the below form. After analyzing your case, we will give out our suggestions as soon as possible.
Any questions? Fill the form below. You will surely get the free medical advice from experts within 24 hours.