Diet for Stage 3 Polycystic Kidney Disease Patients
2013-12-08 16:50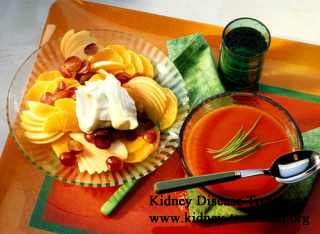 What is the diet for stage 3 polycystic kidney disease patients? Recently, we received this question from a PKD patient. He is in stage 3 PKD, and he has the symptoms of high blood pressure, heart problem, side of the back pain and hyperlipidemia. In stage 3, the kidney function is severely reduced, and patients need to have well-planed diet in order to slow down the progression of kidney failure.
Depending on his condition, our nephrologist give him some suggestions on his daily diet for stage 3 PKD. I hope these suggestions will help other patients who have similar symptoms.
1. Take a low-salt diet.
Patients in PKD stage 3 with hypertension should keep a low-salt diet, and limit the high-sodium foods, all these will reduce the high blood pressure.
2. Take proper protein
Patients should limit the protein intake. For PKD stage 3, they should take 0.6 g every body weight everyday, and a proper protein intake will help patients reduce the kidney burden. On the other hand, they should also take high-quality protein foods, such as milk, egg whites, meat and fish.
3. Limit fat and high cholesterol foods
As patients may have hyperlipidemia in PKD stage 3, they need to limit their daily fat and high cholesterol foods such as egg yolk, caviar, butter, shrimp, fast foods, oil packed fish, cheese and processed meats. Patients should avoid these foods in their daily life.
These diet suggestions will be helpful for their PKD. Besides, they also need to follow other dietary principals.
- Don't take acrid foods
- Don't smoking
- Don't drinking alcohol and beer
On the other hand, patients in PKD stage 3 should also have proper exercises in order to improve their immune system, which will be helpful for the recovery of their kidney function.
For stage 3 PKD patients, they should follow these limited diet to protect their residual kidney function. They should also have effective medical treatment, which will shrink their kidney cysts and repair the damaged kidney tissues. If you want to get detailed medical treatment for stage 3 PKD patients, you can contact us.
Any questions? Fill the form below. You will surely get the free medical advice from experts within 24 hours.