Why Is PKD Taking Shelter In Anyone's Body and What is the Treatment
2017-12-12 11:25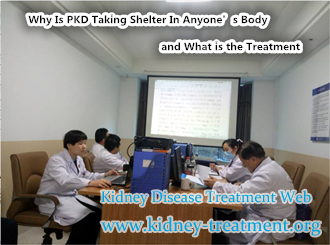 My father has a family history for PKD. My Grandma had same problem and my dad's elder brother also had same issues. So I would like know more about the cure and treatment and also like to know about this disease history how this is evolved and from where and how is started and why is this talking shelter in anyone's body.
How are you? I am sorry for late reply due to my busy work.
PKD is a genetic disorder including autosomal dominant polycystic kidney disease (ADPKD) and autosomal recessive polycystic kidney disease (ARPKD). ARPKD is rare in clinic and the most patients die as new babies.
In clinic, ADPKD is commonly seen. Your father's case belongs to ADPKD. In ADPKD, 90% of the patients have family history and 10% develop the disease due to genetic mutation. If mother or father has the disease, each child has 50% chance of getting the disease.
For the treatment of PKD, in routine western medicines, the patients are just suggested to have regular follow-ups. As the cysts grow in size, some symptoms will occur like high blood pressure, back pain etc. The doctors will just prescribe some medicines to control symptoms. Finally, as more and more cysts replace the kidney tissues and cells, kidney failure will occur. By then, dialysis or transplant will be the only options. That is the routine treatment modality for PKD in western medicines.
Kidneys are a pair of filtering organs in our body. Each kidney is composed of around one million nephrons. However, as renal cysts grow in size, they will replace more and more nephrons, thus leading to renal function decline. Since our kidneys have very powerful compensatory capacity, creatinine level does not increase until more than 50% of renal function becomes lost. While your father's creatinine is just 2.2, more than half of nephrons have been involved adversely.
Therefore, in your father's case, it is important for stop the cysts from growing in size and prevent more nephrons becoming replaced with cysts. More importantly, it is vital to shrink those big cysts to make more space for regeneration of the impaired nephrons. In that way, his renal function will stop declining.
If possible, please send his test reports to me.
E-mail: kidney-treatment@hotmail.com
Any questions? Fill the form below. You will surely get the free medical advice from experts within 24 hours.