What is the Life Expectancy of Stage 3 CKD with Hypertension
2013-12-30 23:35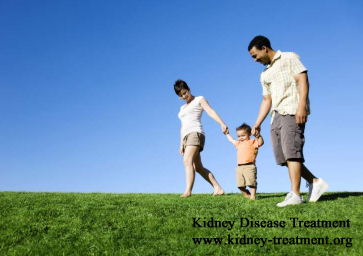 What is the life expectancy of stage 3 CKD with hypertension? This is a question from a CKD patients, whose creatinine level is 3.4, and he has hypertension and asthma. He wants to get his life expectancy, and get the methods to prolong his life expectancy.
However, no one can tell the exact time that a patients can live, because the illness condition is different from case to case, the life expectancy of stage 3 CKD patients all depend on their own condition.
For the patient who mentioned the above question, his hypertension will make a great influence on his life expectancy. As we know, hypertension is one of the leading causes of kidney disease. If the hypertension cant be controlled effectively, it will cause further damage of the kidneys, which will make a bad prognosis for the patient.
For the stage 3 CKD patients, their kidney function is moderately reduced, which means the kidneys cant function well. And patients will experience some serious symptoms and complication such as proteinuria, swelling, blood urine, high blood pressure and anemia. If these symptoms cant be remitted, it will make the CKD patients more sick. Then patients will have a poor prognosis on their illness.
Besides, there are also some other factors that can affect the life expectancy, such as medical treatment, bad lifestyle and unhealthy diet.
Here are some suggestions which can help increase the life expectancy:
- Kidney-friendly Diet
CKD stage 3 patients should pay attention to their daily diet, which will help them reduce the kidney burden and alow down the kidney failure. There are some general diet principles such as low- protein diet, low- salt diet, low- fluid diet, limiting the potassium and phosphorus intake and keep the vitamin intake. All these will be good for the prognosis of CKD patients.
- Keep a Healthy Lifestyle
Stage 3 CKD patients should keep a healthy lifestyle, they should stop smoking and drinking alcohol. They should also do some proper exercises which will improve their immune system and prevent the infections.
-Take Medical Treatment
Stage 3 CKD patients should take prompt and effective treatments to remedy their kidney function. Only the impaired kidney tissues can be repaired, the kidney function will be improved, which will make patients fet rid of further kidney damage and kidney failure. And the related symptoms will be disappeared.
Above are some suggestions for stage 3 CKD patients, if you want to get the detailed treatment information, you can send your test reports to kidney-treatment@hotmail.com. We will answer you as soon as possible.
Any questions? Fill the form below. You will surely get the free medical advice from experts within 24 hours.